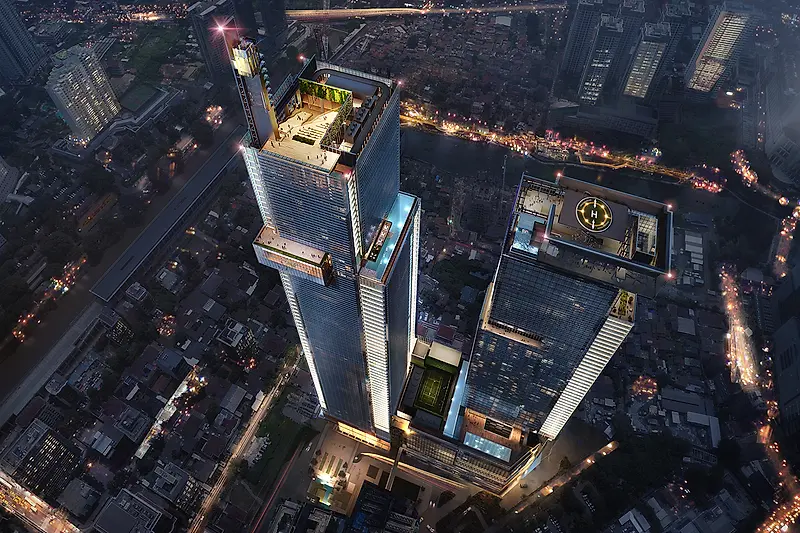 Rob Whitlock Presents Thamrin Nine at PERAFI
Principal Rob Whitlock gave a talk on the design and development of the KPF-designed project in an event dedicated to Thamrin Nine, featuring seminars and a site visit on November 17.
Perkumpulan Ahli Fasad Indonesia (PERAFI) hosted a one-day event that provided insight into Thamrin Nine, a mixed-use, two-tower development in Jakarta. In addition to a presentation from Rob, guests heard from the client and collaborators, participated in a Q&A session, and toured Autograph Tower. Autograph Tower is Jakarta's first supertall, rising 383 meters, with Luminary Tower reaching 304 meters. In his presentation "Thamrin Nine: Next Jakarta," Rob explored how the towers' massing and programming interact with the community. Featuring a distribution of public spaces throughout the two towers, from a retail base to upper observation decks, the team approached the design organization with a vertical city in mind. While both towers have a stepped massing, the observation decks cantilever in opposite directions. This allows one view towards Jakarta's Old City while the other looks towards the developing Central Business District.
The event hosted by PERAFI was in collaboration with Ikatan Arsitek Indonesia and CTBUH. The presentations were held in the Gold Room, Thamrin Nine Ballroom. Learn more here.