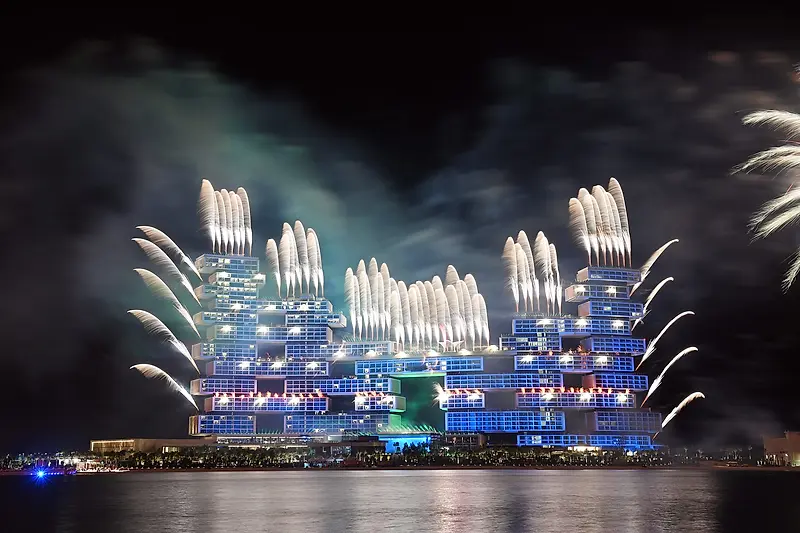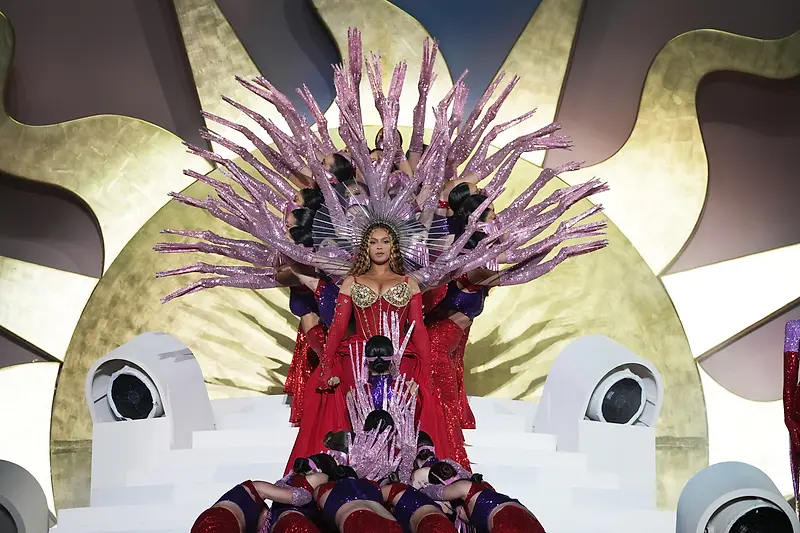 KPF's Atlantis The Royal Celebrates Grand Reveal with Performance by Beyoncé
Last weekend, the KPF-designed resort and residences held its Grand Reveal, featuring several events and over one thousand guests who gathered to watch the superstar perform beneath the iconic skybridge.
The 60-minute performance by Beyoncé was her first live show since 2018 and featured Firdaus, a 48-person all-female orchestra, and The Mayyas, an all-female precision dance group from Lebanon. A fireworks and drone show followed Beyoncé's performance, referencing the display that took place in 2008 to mark Atlantis The Palm's opening. Closing out the night, guests continued to celebrate as Swedish House Mafia performed on stage. Read more about the performances here.
The Grand Reveal Weekend, an extravaganza spanning three days, also included a "Feast of Dreams," a dining experience that offered foods by six world-renowned chefs with restaurants at the resort. Culinary icons present at the event included Nobu Matsuhisa,  José Andrés, Costas Spiliadis, Ariana Bundy, the Queen of couture cakes Mich Turner, and Gaston. Read more here.
In addition to dining opportunities and memorable performances, the invited guests were first to experience the project's iconic architecture. Atlantis The Royal includes 795 Rooms and 231 Residences across a stepped form that naturally separates the two programs. The two sides are linked by a sky-bridge, resulting in a structure that gives Atlantis The Royal its iconic silhouette. Framing a grand gateway between the two buildings, the sky bridge is punctuated by pools, lounges, cabanas and other amenities creating a lush oasis.
"There was almost a performance goal to our brief; an expectation 'to blow the client out of the water' and create a show- stopper of a building that would deliver a unique set of experiences," said KPF President and Design Principal James von Klemperer, who was present at the event. "The building has a lot to do with entertainment. It's not just a quiet place to go and relax and eat fine food—it's about experiencing something you never imagined could be. The architecture sets this up really strongly with its vertical piling up of outdoor experiences in the pools and outside spaces."
Also in attendance was KPF Design Principal Elie Gamburg, who said, "Rather than create another piece of 'iconic architecture,' we sought to create a series of 'iconic experiences' through the design of a building that, by being split into pieces, forms multiple gardens in the sky. This makes it possible to have all of the indoor-outdoor living experiences we expect in a beach-side villa raised in the air and creates a place where one can swim underwater in a transparent pool with views over the skyline of Dubai, thirty-four stories in the sky." Read more about the design and architecture here.
Reservations for future bookings are now available, with stays beginning from February 10th onwards.