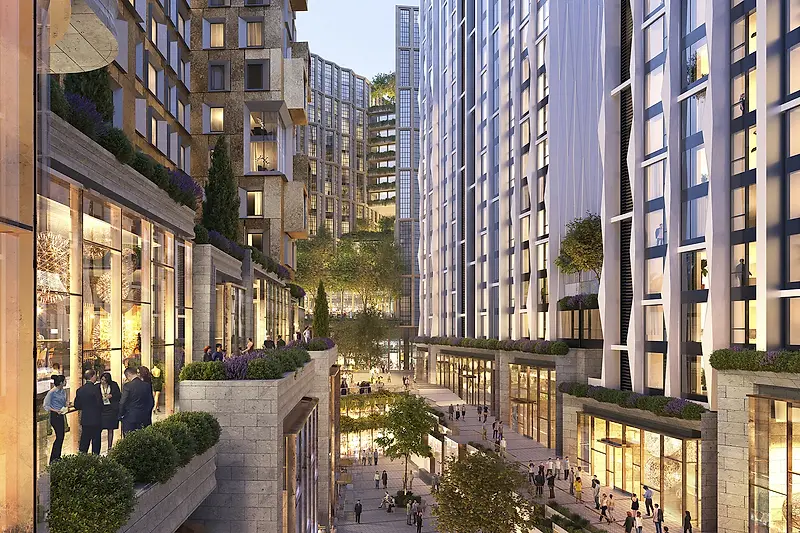 KPF Unveils Design for The Parkside Seoul, a New, Mixed-Use Neighborhood
In a recent article, The Architect's Newspaper explores how the development achieves a cohesive fabric at a large scale while prioritizing the pedestrian experience.
Located east of its namesake, Yongsan Park, The Parkside Seoul is comprised of residential, hotel, and retail programming, spanning 5.2 million square feet. The article notes the park's history as "formerly part of the United States' military headquarters in South Korea." Building a new neighborhood from the ground up, the design team carried over the organic patterns from the park as a guiding theme to weave the varied programs together and create continuity with the existing landscape.
"When approaching this project with such a large site, the fundamental question we asked ourselves was 'how do we create a fabric?'" said Trent Tesch, Design Principal. "Our solution was to work from our surroundings, looking at the neighboring low- and high-rise buildings, and in particular the adjacent Yongsan Park. We began by creating a central spine in the form of a landscaped linear park, conceptually extending the greenery of Yongsan Park into our project. From there, we were very interested in using the architecture of the buildings to create a human-scaled pedestrian experience. We looked at materiality, texture, color, shape, and size together to create an authentic, intimate, and timeless experience."
The Parkside Seoul adds to KPF's portfolio of work in the capital city, which also includes Lotte World Tower, the country's tallest at 555 meters; Bundang Doosan Tower, two towers connected by a skybridge located along the Gyeongbu Expressway; and Samsung Seocho, a 230,000 square meter corporate headquarters for Samsung Electronics.
Read the full article from The Architect's Newspaper here.