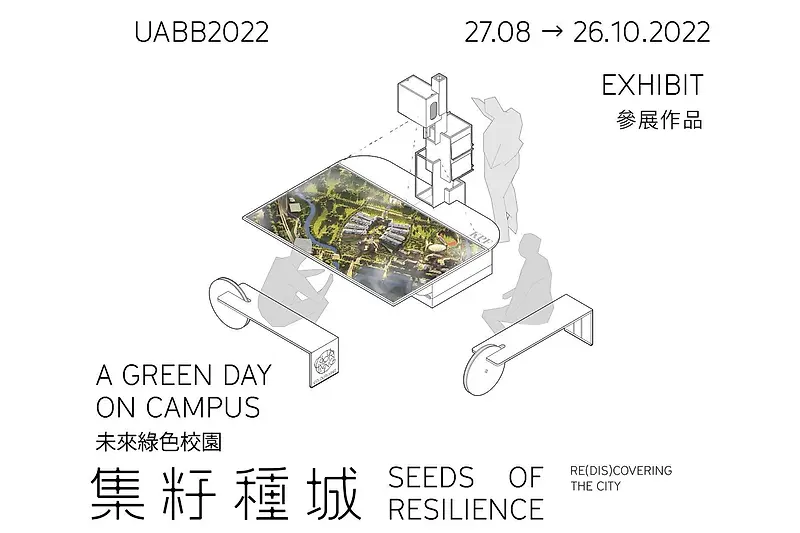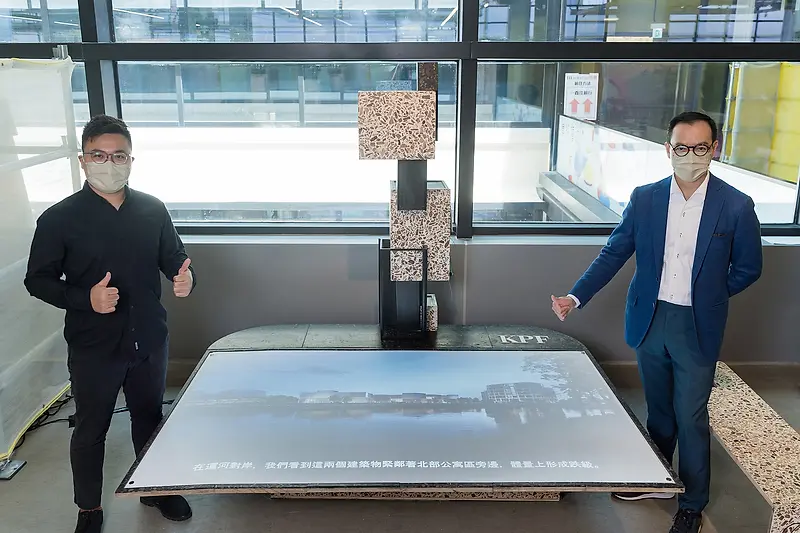 KPF Presents at Hong Kong Shenzhen Bi-City Biennale of Urbanism and Architecture
The traveling biennale features "Unfold the Green Campus," an installation by KPF, and on December 8th, Environmental Design Director Carlos Cerezo Davila spoke at a hybrid seminar.
The theme of this year's biennale (UABB2022) is "Seeds of Resilience," acknowledging the optimistic outlook of Hong Kong in light of the multiple challenges the city has recently endured. UABB2022 aims to showcase the bottom-up efforts employed by citizens to make positive changes in society by encouraging cross disciplinary collaboration between design professionals and stakeholders. KPF Architect Fei Mui served as a curator for Hong Kong's biennale events.
UABB2022 held its official opening ceremony in Hong Kong on September 14th, and KPF's installation, "Unfold the Green Campus," has welcomed over 30,000 visitors since the exhibition first debuted in late August. A box made of Foresso acts as a portable museum that unfolds the story of the recently opened HKUST Guangzhou research and learning campus. The carbon neutral-ready project includes green construction materials and systems carefully embedded throughout the master plan. Through multimedia projection and physical material displays, the piece introduces visitors to technological innovations in building systems and material fabrication that bring us closer to a more sustainable future. In November, the exhibition will travel to Shenzhen where it will be on view as part of UABB SZ for another 3 months.
China Daily recently spoke with KPF about the exhibition: " 'The campus is very intelligent,' says Bernard Chang, principal at KPF, explaining that it collects data and monitors its own performance to facilitate improvements. 'Data is being collected in terms of electricity usage, with cradle-to-cradle studies for simple things like air conditioning,' adds Fei Mui, architect at KPF and a co-curator of UABB."
In the seminar "Campuses as Sustainable Mini-Cities," Carlos discussed the HKUST Guangzhou master plan and how it served as a testing ground for forward-thinking sustainable living ideas. He provided insight into KPF's design process for the project and shared his thoughts on where campus design is headed. The seminar took place on December 8th at 7:00 PM China Standard Time. Register for the event here.
The Biennale celebrates the 25th anniversary of the establishment of the Hong Kong Special Administrative Region (HKSAR). It is organized by the Hong Kong Institute of Architects Biennale Foundation, in conjunction with The Hong Kong Institute of Architects (HKIA), Hong Kong Institute of Planners (HKIP) and the Hong Kong Designers Association (HKDA). It is sponsored by Create Hong Kong (CreateHK) of the HKSAR Government. Learn more about UABB2022 here.