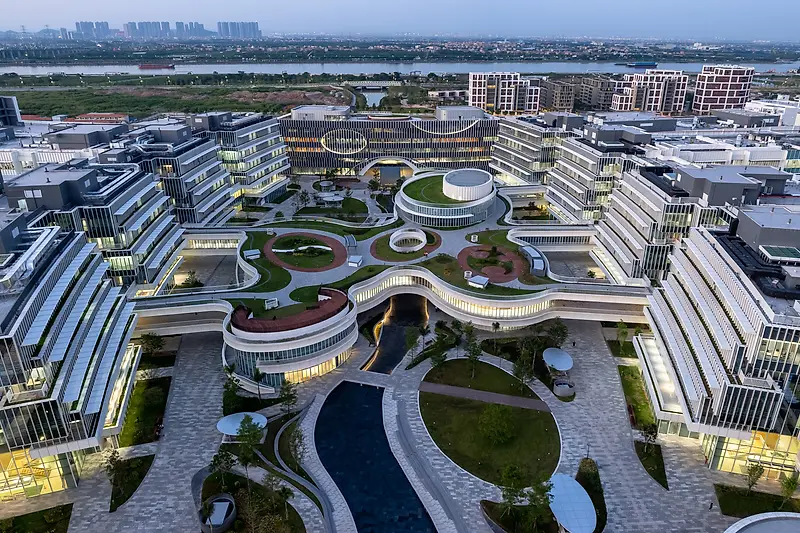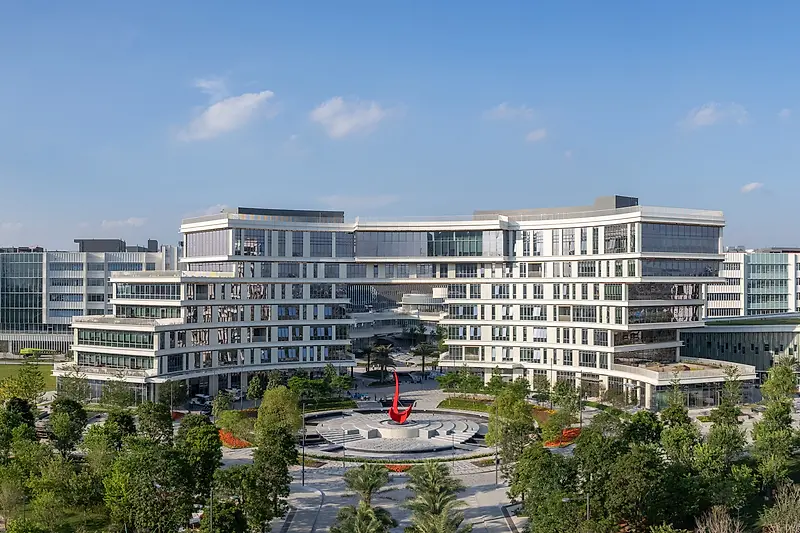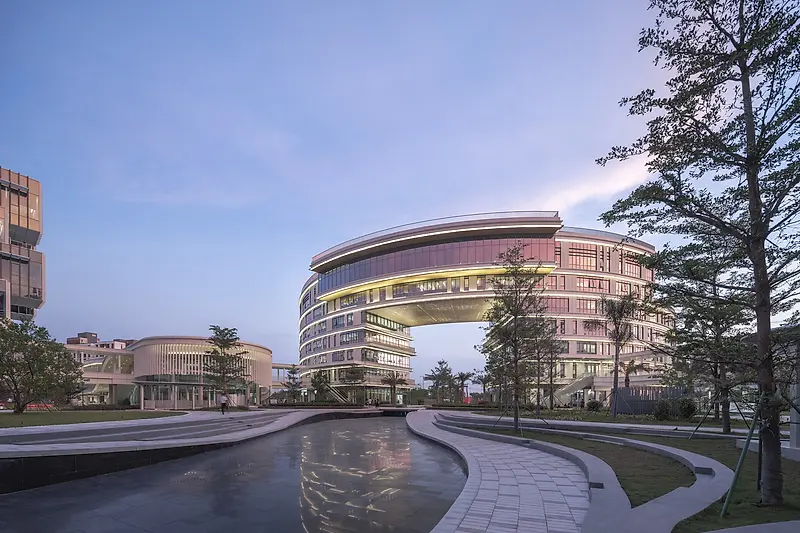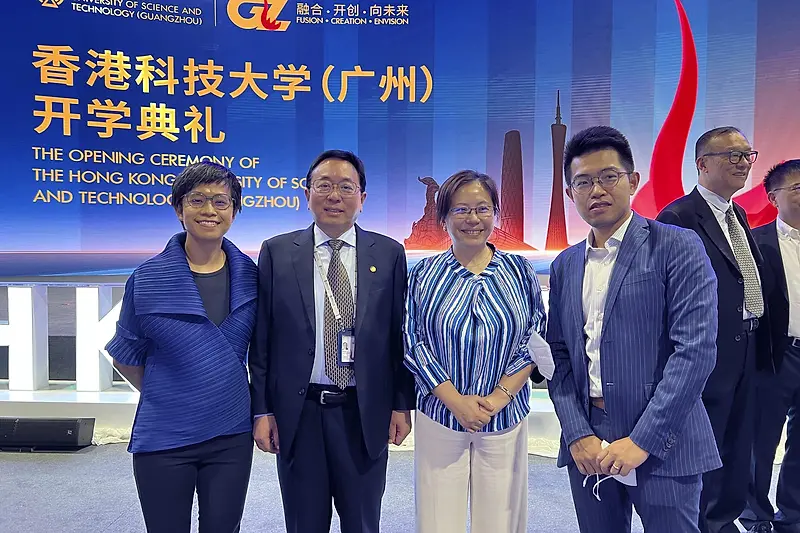 Cutting Edge, Sustainable New Campus for Hong Kong University of Science and Technology Opens in Guangzhou
KPF is excited to announce the opening of the carbon neutral-ready, 267-acre research and learning campus, planned, designed, and built in 3 years from start to finish.
HKUST(GZ) provides an inspirational environment for students, faculty, and staff to live, work, investigate, and study, establishing a world-leading standard in higher education for future generations and campuses across China.
On September 1st, the Hong Kong University of Science and Technology (HKUST), along with many high-ranking government officials and representatives from KPF's local offices, gathered to officially cut the ribbon on the University's new campus in Nansha, Guangzhou (GZ).
The innovative new campus combines the university's programmatic aspirations to support the symbiotic growth of its academic and research programs with the site's natural beauty and surrounding new innovation district, all the while supporting carbon neutrality readiness and zero water waste.
"KPF worked closely with the senior leadership and faculty at HKUST during an intense 2-year period to program, plan, and design a leading-edge research campus for HKUST(GZ)," said Jill Lerner, KPF Principal. "In its 7 districts, the campus aims to provide the HKUST students and faculty a unique experience for teaching, research, living, athletics, recreation, and social interaction."
The master plan creates an iconic and memorable setting for HKUST(GZ). This first phase of the project encompasses nearly 6 million square feet (about 550,000 square meters) for over 4,000 graduate students and 400 faculty. When fully realized, the campus will accommodate more than 10,000 students and faculty, fostering a true mixed-use community by integrating teaching and learning facilities with housing, neighborhood and campus retail, student life programs, administration, hotel, office and incubator spaces, and athletics facilities. The campus is organized into distinct neighborhoods, with programs and architecture that define spaces and places of varying character.
"Our team operated non-stop through the pandemic to help this extraordinary campus come to life," said James von Klemperer, KPF President. "Working from KPF offices in New York, Hong Kong, and Shanghai, we pursued HKUST's goal of making an institution of scientific learning and research that meets the highest of global standards. The focus of our architectural design was to encourage collaboration through marrying functionality and efficiency with the beauty of the place. Landscape and building spaces come together to create an atmosphere where scientists will be energized and inspired to innovate."
All designed by KPF, these specialized facilities are located around a dynamic, central space to foster interdisciplinary collaboration and engender a strong community. This teaching and learning hub is the heart of HKUST(GZ), around which the living learning and research campus will be centered. Eight research and lab buildings, connected by shaded, linear arcades, form a primary, grand urban space that is the nexus of expanding development on east-west and north-south axes. These connect multiple campus programs and provide primary links to the city and the river.
Rather than following a traditional academic structure for the new campus based on schools and disciplines, HKUST(GZ) is centered on a "project-based learning" model which encourages multi-disciplinary interactions. Four key "Hubs" have been established, Function, System, Information & Society. Each structure is supported by "Research Thrusts" which may evolve over time. A full range of teaching spaces, including seminar classrooms, labs, large lecture halls, maker spaces, and collaborative workspaces, are integrated with the research environment.
HKUST(GZ) is a leading example of sustainable development in China, with a 54% reduction of carbon emissions from day one and a goal of achieving carbon neutrality before 2060. The plan features environmental and resilient design measures attuned to Guangzhou's hot, humid climate along the rapidly urbanizing coast of Southern China and to the flooding, seismic, and climate change risks of the area. The campus' key driving principles are: Zero Impact, Resilience, Futureproofing, Social Wellbeing, Regenerative Systems, and Living Lab. The master plan employs strategies to address these principles through five focus areas (Energy, Water, Resources, Mobility and Comfort) with specific targets identified.
HKUST(GZ) is the centerpiece of a new innovation district in Nansha, located midway between Guangzhou and Shenzhen. The campus' proximity to Shenzhen, the unofficial Silicon Valley of China, positions it as a catalyst for innovation within the Greater Bay Area, while a high-speed rail line connects HKUST(GZ) to Hong Kong, allowing synergy between the university's two campuses.
A team of over 70 architects and planners across KPF offices in New York, Shanghai, Hong Kong, and Singapore, as well as many consultants demonstrated incredible dexterity and collaboration to design and deliver a project of this scale on an accelerated schedule. Arup, for example, provided total engineering design services, covering civil, geotechnics, structural, building services, façade, fire, smart building technology system and sustainability design, and helped support the fast-tracked delivery. Other consultants include Ayers Saint Gross, Jacobs, James Corner Field Operations, and MVA. The master plan was undertaken between July 2019 and January 2020, and a preferred scheme was selected in time for the site groundbreaking in September 2019, only 2 months after the design team was selected.
The HKUST(GZ) campus represents a significant addition to KPF's portfolio of research, innovation, and academic facilities around the world, including the CUNY Advanced Science Research Centers in New York City, the University of Michigan's Detroit Center for Innovation, and NYU's new Qiantan campus in Shanghai.