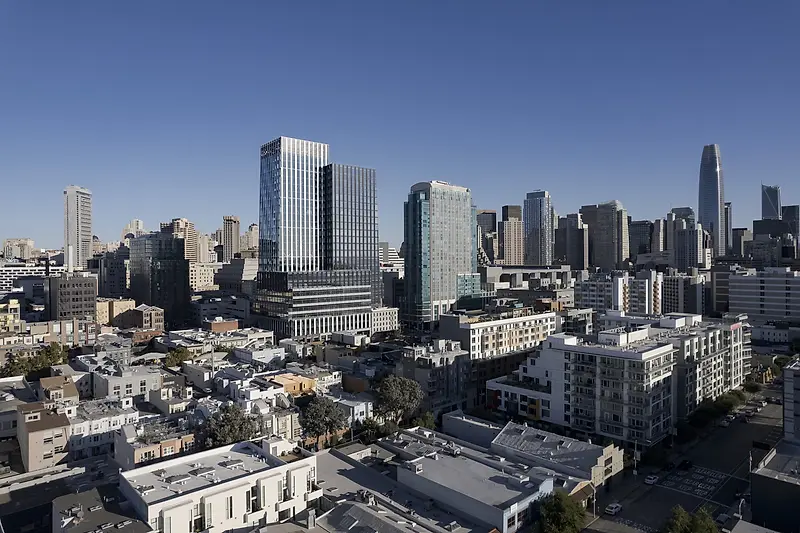 KPF Presents at AIA Conference on Architecture 2023
From June 7th to 10th, Principal Trent Tesch, Director Angela Wu, and Associate Director of Human Resources Joel Peterson took part in a variety of events at the annual conference in San Francisco.
On June 8th, Trent Tesch and Angela Wu presented 415 Natoma in "Planning & Designing for an Unknown & Ever-Changing Future." The two spoke alongside Laura Crescimano, Principal at SITELAB Urban Studio, and Christie Donnelly, Senior Director at Brookfield Properties. The group discussed how to create an urban plan with a timeline of 15–20 years, focusing on the forward-thinking scheme for 5M and the design for its anchor office building, 415 Natoma. Learn more.
On June 9th, the tour "Placemaking at 5M: Before & Beyond Architecture" gave viewers a chance to explore the new neighborhood. Attendees learned how the design and program were integrated to extend placemaking, with a focus on the relationship of the ground floor, circulation, and open space design. Featured in the tour were the Parks at 5M, the overall 4.5-acre master plan by SITELAB, and 415 Natoma. Learn more.
On June 10th, Joel spoke on a panel "To Remote or Not Remote? A Tale of Two Firms." He was joined by Anne David, Assistant Director of H.R. at H2M Architects + Engineers. The two discussed the role HR professionals play between leadership pushing for productivity and employees requesting flexibility in a time of hybrid work. They identified why firms are struggling to maintain communication, collaboration, and recognition within remote teams and how they can resolve these challenges. Learn more.
The conference was held from June 7th to 10th in San Francisco, with presentations held at the Moscone Center. Learn more about the full conference here.