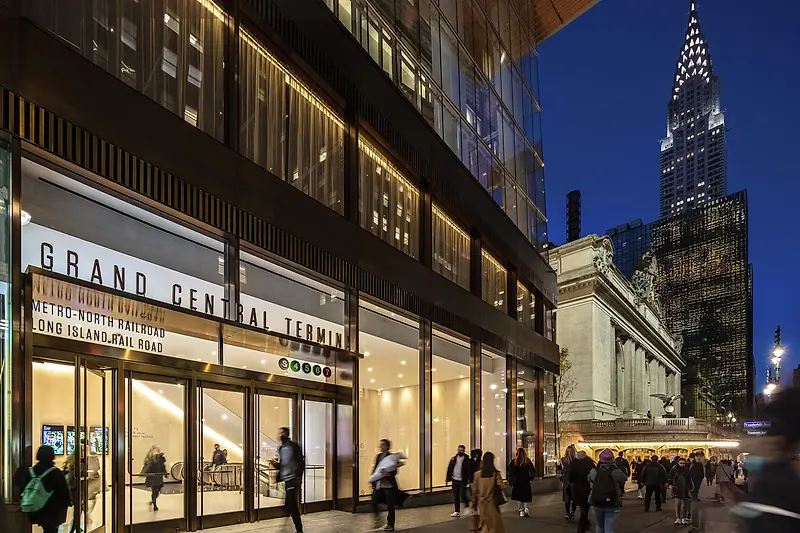 Grand Central Madison, Directly Accessible via One Vanderbilt, Opens
The KPF-designed tower is fully integrated with the new station, which offers Long Island Rail Road (LIRR) customers service to midtown east, and the region's larger transportation network.
This week, New York Governor Kathy Hochul and Metropolitan Transportation Authority (MTA) Chair and CEO Janno Lieber rode the inaugural LIRR train to Grand Central Madison, celebrating its opening. Located below Grand Central Terminal, the new station doubles LIRR capacity into Manhattan. For LIRR customers who work on the east side of Manhattan, this new terminal is expected to save 40 minutes of daily commute time round trip.
One Vanderbilt, recognized for its substantial positive impact on the public realm, connects directly to Grand Central Madison and with it the entire Long Island Rail Road network. The building also links to the Metro-North Railroad, the 4/5/6/7 subway lines, and the shuttle to Times Square all via Grand Central Terminal, connecting One Vanderbilt to New York's metro and regional transportation networks more than any other building in the city.
Since its opening, One Vanderbilt has transformed the civic experience of the Grand Central District. Architecturally, the base of the tower is part of the spatial sequence of the Terminal and serves as a doorstep to the city. One Vanderbilt also introduced new accessible pathways to Grand Central that are designed to alleviate congestion and prioritize pedestrian flow. KPFui created custom tools to evaluate options and used data analytics to reconcile competing objectives and help facilitate the design. The result prioritizes movement and allows more daylight to street level than the building on site previously, despite its larger size.
As part of the project, developer SL Green contributed a $220 million package of public open space and transit infrastructure improvements, including the new 4,000-square-foot-public transit hall inside the tower and the adjacent 14,000-square-foot, car-free pedestrian plaza. One Vanderbilt represents a new model for how public-private partnerships can work together to deliver crucial public benefits.
"Grand Central Madison is a game changer for New Yorkers, and I look forward to welcoming Long Island commuters to our tremendous new terminal," Governor Hochul said. "Infrastructure is all about connections, and this project is an extraordinary step forward to better connect millions of New Yorkers with their homes, their families and their jobs."
Grand Central Madison is the first expansion of the LIRR in 112 years, since service began to Penn Station in 1910.
Read more here.