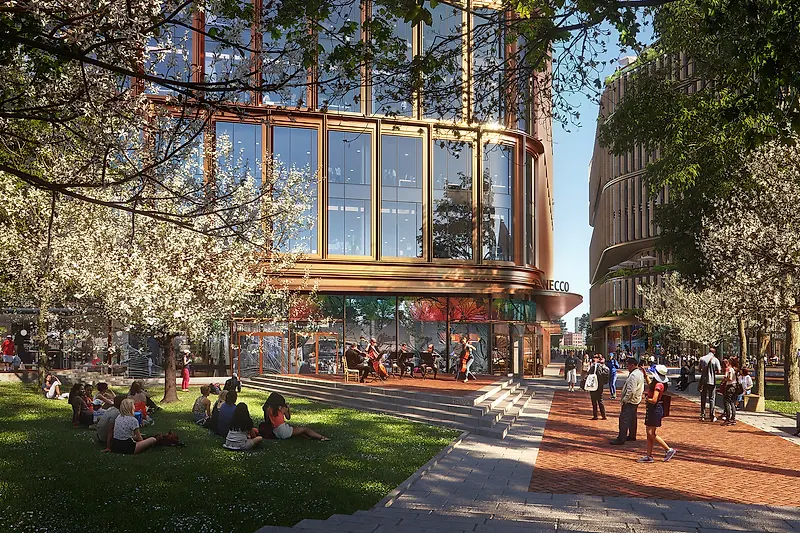 Carlos Cerezo Davila Lectures on Sustainable Building Design at MIT
KPF's Environmental Design Director returned to his alma mater to teach at the MIT Center for Real Estate, focusing on the importance of sustainability in the industry at both the asset and portfolio levels.
The course, Sustainable Real Estate: Economics and Business, is a required course for MIT's Master of Real Estate. As one of four lecturers, Carlos provided the design perspective for the course, while the other professors focused on aspects of business and economics, each emphasizing the synergy between the sectors. Recognizing that the operation and construction of buildings account for more than 35% of energy use and almost 40% of CO2 emissions, Carlos' portion of the course emphasized how carbon neutrality and electrification goals fit in a development project, as well as key design decisions to achieve the best environmental performance.
Across three sessions, Carlos presented an overview of building and site design practices exemplified by KPF's project portfolio, including a local mixed-use project with lab and office space along the waterfront, Channelside. A central theme was the electrification of buildings and how to calculate the financial impact from a real estate perspective. The sessions were organized as follows:
Session 1 – A Framework for low carbon Building Design
Framework for climate-ready and sustainable design
Passive and active thermal design
Renewables and carbon neutrality
Embodied carbon and lifecycle design
Session 2 – Design for Resilient and Healthy Buildings
Climate change risks and resilience
Stormwater control, flood mitigation, and landscape
Thermal comfort and future climate
District systems and urban scale opportunities
Session 3 – Integrating Sustainability in the Development Process
Integrated and performance-driven delivery
Project timeline and design decisions
Scope definition and goal setting
Working with architects and consultants
In addition to the lectures, Carlos prepared a case study assignment for students to examine a KPF office building currently in the design phase. Students were asked to assess the challenges and advantages of a fully electric building design in a dense urban area with carbon regulations.
Learn more about KPF's Environmental Performance team here and the firm's commitment to sustainability here.