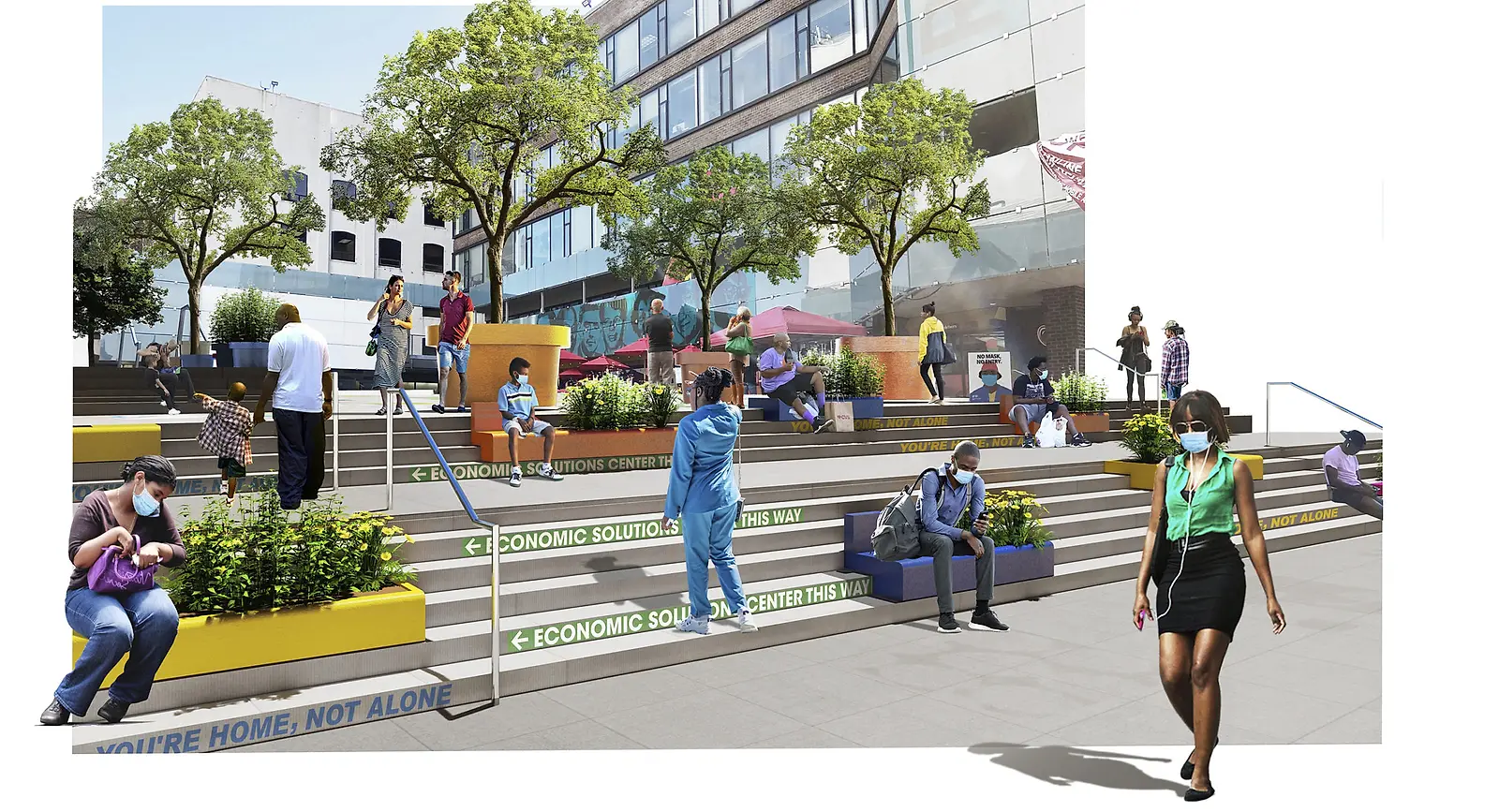 For the initiative developed by the Van Alen Institute and Urban Design Forum, KPF and collaborating firms partnered with the Bedford-Stuyvesant Restoration Corporation to help address COVID-19 relief in a neighborhood already dealing with social inequity.
Neighborhoods Now began in June 2020 with the purpose of connecting New York neighborhoods that were heavily impacted by the pandemic through reimagined public spaces. KPF joined AE Superlab, Farzana Gandhi Design Studio, James Corner Field Operations, and JB&B to build on the Restoration's continued efforts in the area, designing new plazas and connection corridors, and conceptualize updates to the vacant lots on Fulton Street in Brooklyn's Bed-Stuy. The team's design addressed the tenant-scale, including individual offices and businesses, up to the neighborhood level.
For the Bed-Stuy community, the team developed tailored solutions resulting in a set of design recommendations, prototypes, and installations that contribute to a safe, equitable, healthy, and vibrant neighborhood. The materials distributed in multiple languages to the wider population included posters and pamphlets related to COVID-19 and a digital toolkit with recommendations from the state, city, and CDC. The team hosted virtual workshops for small businesses to better inform owners on guidelines and protocols, and implemented the "Be a Good Neighbor" program, encouraging businesses to work together.
KPF established community build days to carry out the initial phases of the proposals, partnering with RestorationArt and local artists to integrate graphic cues for social distancing and circulation, beautifying the neighborhood. As CDC guidelines changed, the team continued conversations with Restoration to update posters and pamphlets.