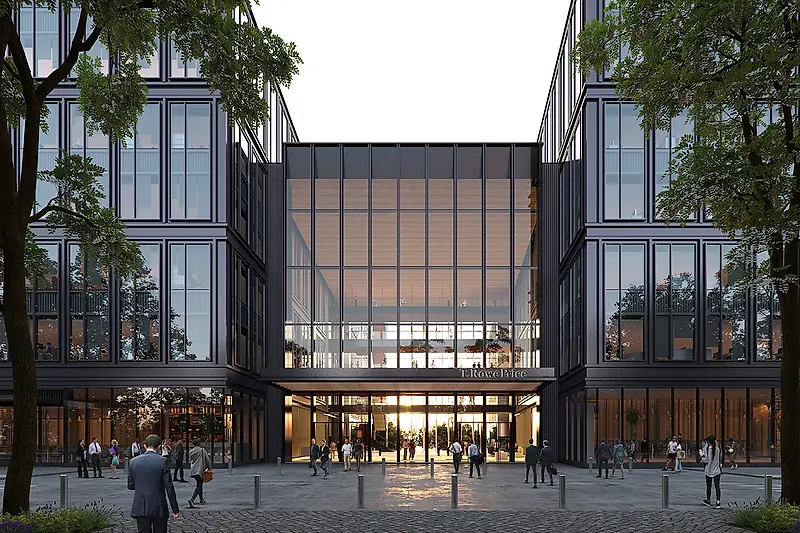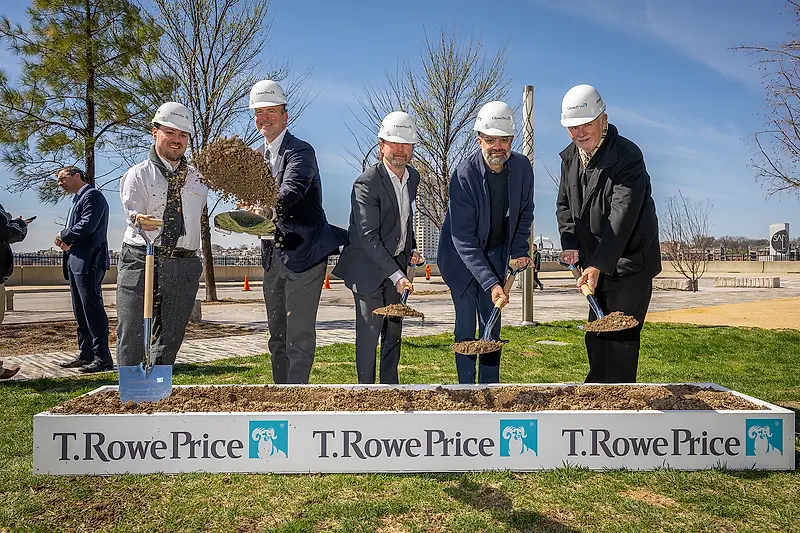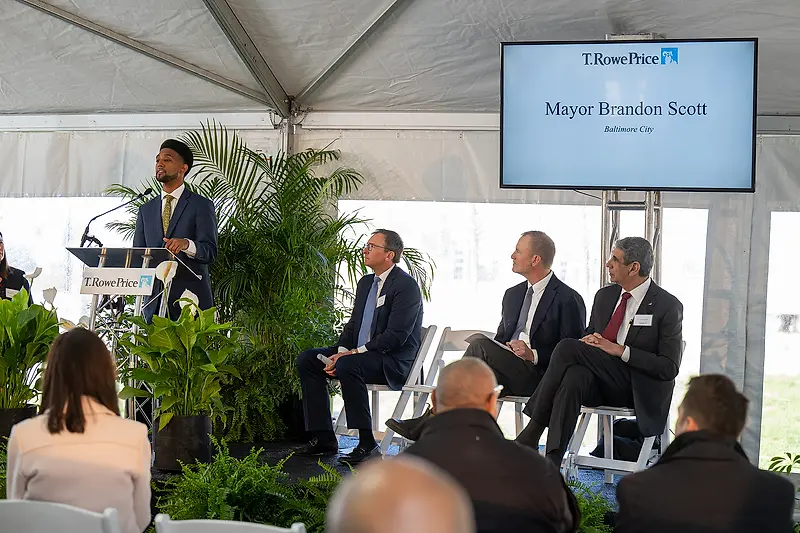 T. Rowe Price Global Headquarters Breaks Ground in Baltimore
Marking the investment firm's 85th anniversary, the KPF-designed headquarters building broke ground in the city's Harbor Point.
Located at the gateway to Baltimore's Inner Harbor, two pedestrian-scaled buildings linked by a central all-glass lobby atrium comprise T. Rowe Price's new 550,000-square-foot waterfront global headquarters. The project's design features elegant cladding of dark metal and clear glass, while inside wood, stone, and greenery, complement the surrounding natural landscape and the adjacent 4.5-acre Point Park. Large windows offer expansive views of the harbor and bring natural light into the interior spaces. The overall massing and position of the project creates a walkable connection between the site's central plaza and the public waterfront park.
"T. Rowe Price's headquarter campus cements our firm's focus on creating impactful urban architecture," said Forth Bagley, KPF Managing Principal. "An important lynchpin in Harbor Point, the project represents a collective commitment to the continual upgrade of Baltimore's iconic waterfront. We are thrilled to be a part of this important milestone."
"The T. Rowe Price headquarters building seeks to create a hyper porosity, both visual and physical, from the Central Plaza down to the harbor," said Jeffrey Kenoff, KPF Design Principal. "The façade specifically reduces the scale of the massing through a cadence of grey double height bays that echo the city's historical DNA and industrial heritage."
Targeting LEED Platinum and Fitwel Three-Star certifications, the new building includes water management systems that will save over 1.5 million gallons of potable water annually and design and operational strategies that will enhance user wellbeing.
On the topic of the firm's relationship with the city, T. Rowe Price's CEO and President Rob Sharps said, "We have been in Baltimore since 1937, and we remain committed to supporting our community and creating a sustainable environment for our associates to thrive."
The T. Rowe Price global headquarters is set to open in 2024. Learn more about the groundbreaking here.
This milestone in Baltimore follows recent groundbreakings at 17xM in Washington D.C., an innovative office building that pushes the boundaries of sustainability and craft, and 2000 South Bell Street in Arlington, Virginia, a residential tower that infuses new life into a growing commercial district.