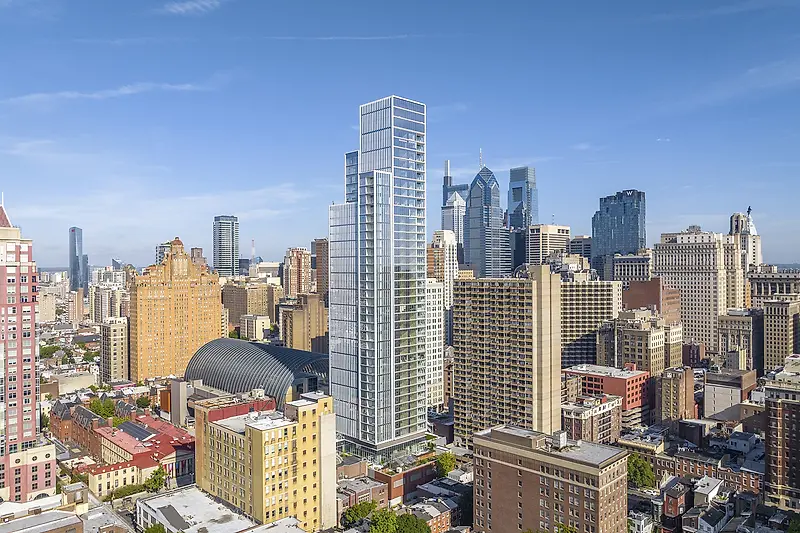 Philadelphia Magazine Spotlights Arthaus's Healthy Spaces
Following the opening of the KPF-designed residential tower, the outlet released a feature on Arthaus developer Carl Dranoff, exploring how the project is providing residents with wellness-driven amenities.
The article begins with Carl's reasoning for developing Arthaus, "I designed Arthaus for people like me, people who want to live in the city, in close proximity to the arts. This project sets the table for everything happening in the future of real estate here in Philadelphia." A central thesis to Arthaus's design is maximizing natural light, fresh air, and nature, and Meredith Lindemon, the article's author, notes it does so "without gobbling up all the real estate outside."
A key driver of the wellness-focused design is the array of amenities available at the building. Spread across two floors and taking advantage of the building's spacious podium rooftop, highlights of the project's amenities include a 19-plot garden and greenhouse, exterior lounge areas and a dog run, a 75-foot pool, steam rooms, a demonstration kitchen, and private salons, among others. Meredith pays particular attention to the playful use of color, to which KPF Principal and design lead for Arthaus Josh Chaiken shared, "I think 'engineering' sounds too precise, but you can evoke a response through the use of light and color."
The building's 108 residential apartments feature floor-to-ceiling windows, two exposures, high ceilings, and access to at least one large balcony. The spacious units are contemporary in their design, with clean lines, elegant finishes, and top-quality fixtures.
Read the full article here.