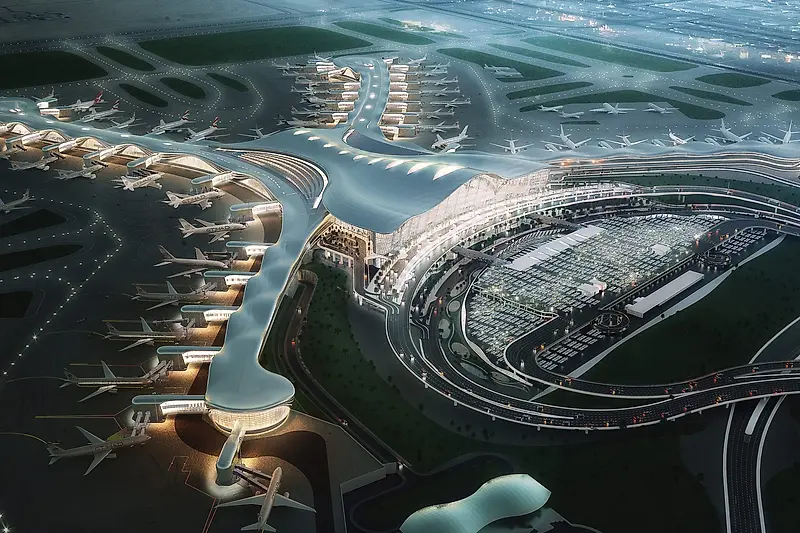 Opening Announced for Abu Dhabi International Airport Terminal A
Terminal A, formerly known as the Midfield Terminal, is scheduled to open in November 2023. The state-of-the-art new terminal, designed by KPF, will accommodate 45 million people, process 11,000 passengers an hour and operate 79 aircrafts.
"Terminal A underscores our dedication to providing our international passengers and partners with a premium airport experience," said Elena Sorlini, Managing Director & Interim CEO at Abu Dhabi Airports. "The terminal exemplifies our commitment to excellence and offering exceptional services that meet the evolving priorities of today's travellers. Through leveraging the latest technologies, Abu Dhabi's reimagined airport experience will offer a seamless passenger journey, fostering connectivity, interactions, business, trade and tourism, all of which are essential elements in strengthening Abu Dhabi's position on the world stage."
KPF Design Principal, Mustafa Chehabeddine, commented "For myself, and many architects and designers at KPF, this is the defining project of our careers. We are incredibly proud to see the terminal ready to open to the public."
Although not opening until November, many people have already experienced Terminal A, which was featured in the opening sequences of Mission: Impossible – Dead Reckoning Part One.  A behind-the-scenes film with Writer/Director Christopher McQuarrie provides another opportunity to see the iconic design
Read the full announcement from Abu Dhabi Airports here.