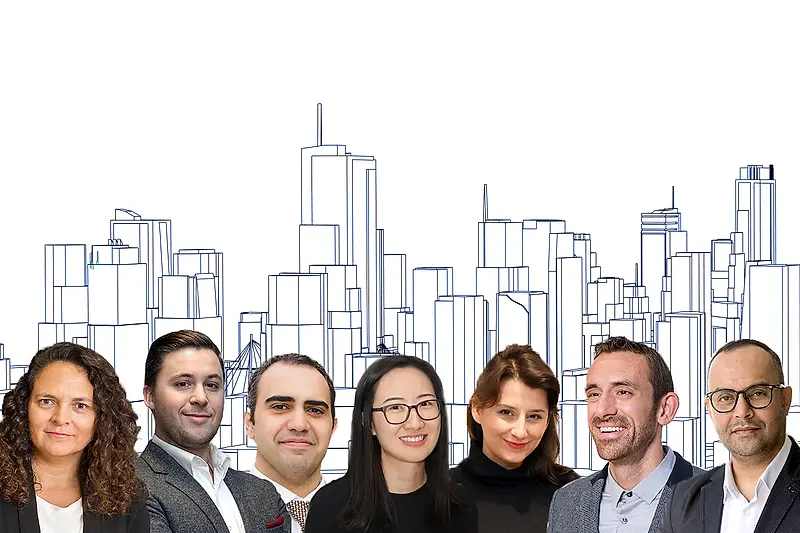 KPF Promotes Staff to Leadership Roles
KPF is pleased to announce that 46 people across the global practice have been promoted to leadership positions, naming seven new Directors, 16 Senior Associate Principals (SAP) and 26 Associate Principals (AP).
"This year has demonstrated the dedication and excellence of our global teams as they have risen to the many challenges posed by the COVID-19 pandemic," said KPF President James von Klemperer and KPF Principal Dominic Dunn. "On behalf of KPF's leadership, we recognize the commitment, creativity, and leadership shown by these hardworking individuals over the course of their careers at KPF. We extend our sincere congratulations to the newly elevated staff members and look forward to our continued work together to improve the quality of the built environment in cities around the world. In making these promotions, we recognize the sustained faith that our clients, collaborators, and city planners are showing to the vital role that architecture continues to play in strengthening our society."
Directors
Shiju Balakrishnan LEED
Since joining KPF in 2004, Shiju has helped develop the firm's breadth of projects in Asia and the Middle East. With an architectural career equally weighted between design and delivery, Shiju champions the value propositions most central to a given client — be they related to operations, cost and/or constructability — as well as the complexities that are intrinsic to the making of architecture.
Chad Christie AIA LEED AP BD+C
While at KPF, Chad has worked on a wide range of projects, including mixed-use towers and master plans, offices and headquarters, retail developments, residential complexes, hotels, academic facilities and cultural destinations. Chad brings a global perspective to his work, with extensive experience in North America, Europe, the Middle East, and China.
Daniel Dadoyan AIA LEED AP BD+C
With almost 20 years of experience working on commercial, retail, mixed-use and residential projects throughout Asia and United States, Daniel has developed particular expertise in project management, exterior wall design and detailing, and office interior design.
Grace Liao AIA LEED AP WELL AP
With extensive experience leading design teams, Grace has completed a diverse range of projects including commercial, mixed-use, residential, research and development, and transportation designs throughout Asia, Canada, and the United States. Grace's work blends conceptual design rigor with a strong sense of context and placemaking influenced by her background in urban design.
Brian Spring AIA RIBA
Brian's 12 years' professional experience spans commercial, residential, retail and healthcare typologies, from individual buildings to supertall towers and urban master plans. Brian brings a deep respect for place to each of his projects with designs informed by their specific contexts through the exploration of detail and materiality.
Pamela Wackett
Pamela's experience spans more than two decades and includes the design and delivery of some of KPF's most iconic projects in Europe, South America, and Asia. Pamela treats every project as a quest for perfection, seeking design solutions that ensure the building's form, façade and plan are in perfect dialogue with each other.
Darina Zlateva AIA
Since joining KPF in 2012, Darina has been instrumental in forming and executing the design vision of some of the firm's flagship projects. Her interests in exterior walls, organic architecture, detailing, craft, urban design, and civic spaces influence her practice.
Senior Associate Principals
Maria Banasiak, Rodney Bell, Nicholas Desbiens, Sammy Gao, Myriam Hamdi, Courtney Higgins, Wenny Hsu, Minho Jeon, Rinor Komoni, Ephraim Lasar, Emily McNally, Satoshi Okawara, Yoko Saigo, Michael Wetmore, Di Xia, Lester Yu
Associate Principals
Pedro Camara, Erica Cho, Tin Yiu Fung, John Hooper, Shaoliang Hua, Liz Huang, Tugba Ilhan, Young Kang, Rebecca Kent, Daniel Koo, Bonnie Liu, Patrick Lam, Dan Li, Luke Lu, Rayka Luo, Alex Mailloux, Vicky Pan, Chris Pettis, Veronica Quintero, Magdalena Skop, Steven Smolyn, Dongbai Song, Kadambari Srinivasan, Maciej Szczawinski, Cass Turner, Zheng Wu