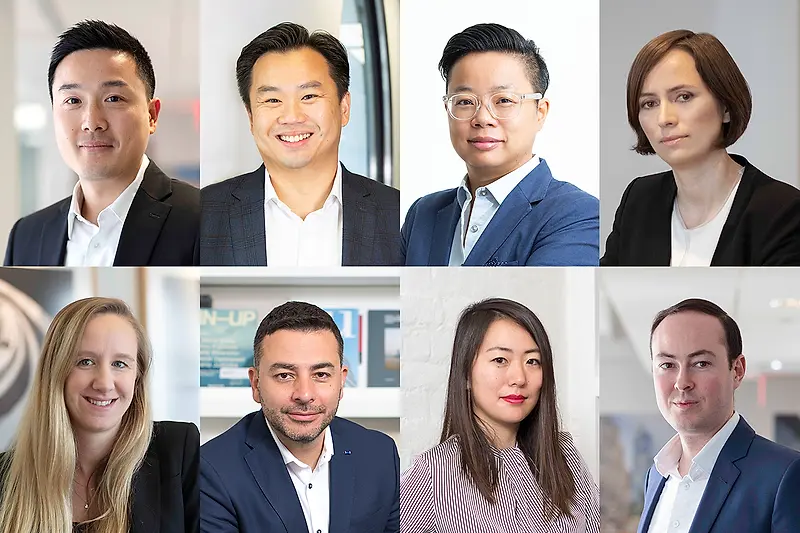 KPF Promotes Staff to Leadership Roles
The firm has named eight new Directors across three of its global offices and elevated 14 staff members to Senior Associate Principal (SAP) and 38 to Associate Principal (AP).
KPF thanks these hardworking individuals for their leadership, dedication to the firm, and daily creative contributions that improve the built environment.
Directors
Richard (Hyun Soo) Kim, AIA LEED AP
Since joining KPF in 2009, Richard has designed a number of the firm's most high-profile commercial, mixed-use, residential and cultural projects throughout the United States, Europe and Asia. His design strength lies in his diverse experience working on a variety of project types and scales, paying close attention to both context and detail.
Edwin Lau, RAIC LEED AP
Edwin has more than 17 years of professional experience working on a variety of retail, office, and mixed-use projects. He has carried projects from planning to completion and brings a wealth of knowledge in retail, luxury residential, and hospitality design. Edwin has played key roles in various projects in Chengdu, Shenzhen, and Hong Kong.
Yee Tak Lau, AIA RIBA HKIA LEED AP
Yee Tak has more than 15 years of professional experience as a design and project manager, having worked in the United States, Europe, Hong Kong, China and Southeast Asia. Since joining KPF in 2006, she has played an integral role in the design, management and delivery of a diverse portfolio of projects ranging from large-scale commercial, residential and mixed-use developments to boutique hotels, bespoke houses and high-end interiors.
Ana Leshchinsky, LEED AP BD+C
Since joining KPF in 2008, Ana has worked on a multitude of projects and program types, spanning from academic and residential to large-scale mixed-use developments, supertall towers, and master plans. Ana's experience living and studying in various countries sharpened her sensitivity to historic and cultural influences, encouraging her to focus on urban and cultural context and the scale of the human experience in urban locales. This approach has been instrumental in her successful work with local and international clients across the United States, the Middle East, and Asia.
Callie Omojola, AIA
Callie has over a decade of experience working at KPF, where she has focused on mixed-use, hospitality, and master planning projects across the United States, United Kingdom, India, Japan, and China. Her management philosophy appreciates form and function in the planning process. She works closely with designers, clients, and stakeholders to promote sensitivity to regional and local context in the pursuit of efficient buildings for clients and users alike.
Javier Roig
With extensive experience leading the architectural design and master planning of large-scale mixed-use development projects, Javier oversees projects from both KPF's London and New York offices. His global portfolio includes 14 million square feet of commercial developments in UK, Europe, Asia, South America and the Middle East. Since 2014, Javier has also been leading KPF's social outreach program in collaboration with Habitat for Humanity.
Michiko Sumi,RIBA ARB
Since joining KPF in 2010, Michiko has challenged design by experimenting with a variety of techniques throughout the making process, using craft and models to achieve the most intricate details within large-scale projects. Well-versed in dealing with unique historic sites, Michiko was Senior Designer on a collection of projects across the Covent Garden Estate, including the recently completed, AIA award-winning Floral Court, an assemblage of contemporary and historic buildings around a newly-created courtyard and passageway.
Luc Wilson
Luc leads KPF Urban Interface (KPFui), an internal think tank furthering urban planning and architectural design through computational research and a suite of proprietary analytical tools. With his interdisciplinary team, Luc has developed a unique data-driven design methodology and applied it to over 300 of KPF's projects globally. Luc's approach optimizes performance metrics within a human-centric framework of how cities, neighborhoods, and buildings are used from day to day by the people they serve.
Senior Associate Principals
Nathan Degraaf, Kesler Flores, Asako Hayashi, Christopher Hill, Manman Huang, Rutger Huiberts, Paulina Kolodziejczyk, Alex Kong, Alex Miller, Joe Pang, Laura Piccardi, Amanda Prins, Rosa Rius Garcia, Rachel Villalta
Associate Principals
Melissa Au, Andrea Basney, Greg Boccacci, Vincent Chen, Xi Chen, Daniel Choi, Sujung Choi, H Clark, Louis Cobben, Nicholas Desbiens, Shaoxuan Dong, Sam Edward, Eric Engdahl, Frank Fan, Xianyan Gong, Marta Gonzalez Anton, Myriam Hamdi, Tianci Han, Alphas Hope, Chen Jin, Jonathan (Tait) Kaplan, Hyun Ju Kim, Michael Kirschner, Leif Lee, Alexander Lightman, Xiachui Liu, Simone Luccihenti, Jackie Luk, Marta Mur Aguilar, Andrew Niccolaides, Chris Popa, Hala Sheikh, Donald Shek, Sulan Shen, Jiarui Su, Louis Sullivan, Dakota Swainson, Ringo Tse