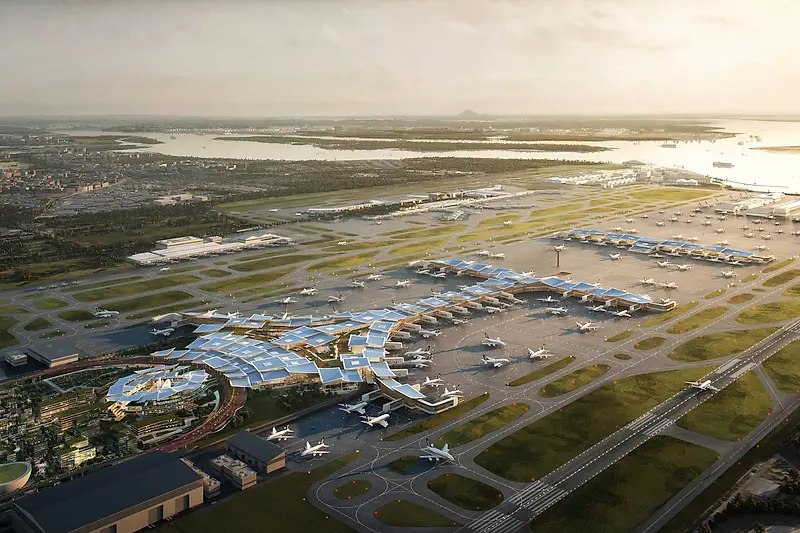 Jochen Tombers Leads Workshop on Systems Thinking at CTBUH International Conference
On October 16, the KPF Principal joined the discussion and ideation session focused on complex infrastructure projects.
In the workshop "Systems Thinking | Designing Buildings," a panel of industry experts discussed strategies to address the challenges posed by rapid urbanization, the climate crisis, and the ever-changing needs of society. The systems thinking method posits that the AEC industry must shift from the conventional approach of designing individual components to an integrated and holistic view of buildings as complex, vibrant systems. The workshop provided insight into how designers apply this methodology to their work, with Jochen focusing on how KPF develops large-scale infrastructure projects, such as Singapore's Changi Airport Terminal 5, designed with Heatherwick Studio.
Jochen was joined by Joan Capdevila, Design Director at Gensler; Najeeb Rahmat, Co-studio director at Gensler; Sam Conrad Joyce, Associate Professor at the Singapore University of Technology & Design; Yaw Shyan Lim, Deputy Director of Building and Construction Authority; Pek Har Ng, Director at Ramboll; and Teck Thai Heng, Deputy Chief Executive Officer, Building and Construction Authority. Learn more about the workshop, taking place at 1:30pm on October 16, here.
At the annual conference, Jochen will be joined by additional KPF leadership as they take part in a variety of events, including keynotes and Awards of Excellence presentations. View the full schedule here.