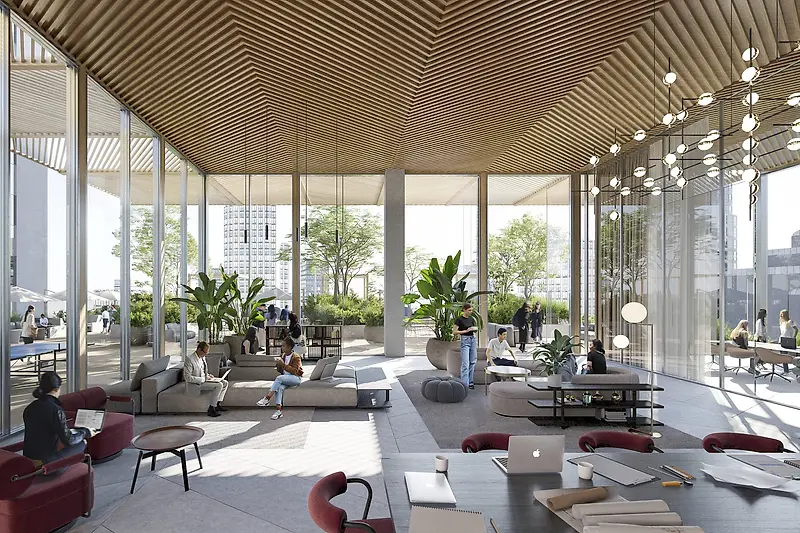 Hana Kassem Shares KPF's Mass Timber Experience with AIA NY
On October 24th, the KPF Principal joined a panel to discuss the sustainable material as the group examined the newly opened Sara Cultural Centre in Sweden.
Mass timber has emerged as one of the most sustainable solutions for building structures and research on engineered timber has unleashed a world of previously unimagined design possibilities. Hana discussed KPF's experience with the material, including Burrard Exchange, which will be one of the tallest hybrid mass timber office buildings in North America at 260 feet tall.
In a conversation focused on The Sara Cultural Centre, designed by White Arkitekter, Hana was joined by Robert Schmitz, Partner, and Monica von Schmalensee, CEO of White Arkitekter, as well as Nat Oppenheimer, PE, LEED AP, Senior Vice President, Silman and Nicole Spina, Assistant Vice President, NYC EDC.
Home to a regional theatre, a museum, an art gallery, a hotel, and a city library, The Sara Cultural Centre in Skellefteå, Sweden broadens the application of full timber construction and proves that timber is a viable solution for virtually any building type.
The event took place on October 24th from 6:00 to 8:00 PM, available for free both in person, at the Center for Architecture, and over Zoom. Learn more here.