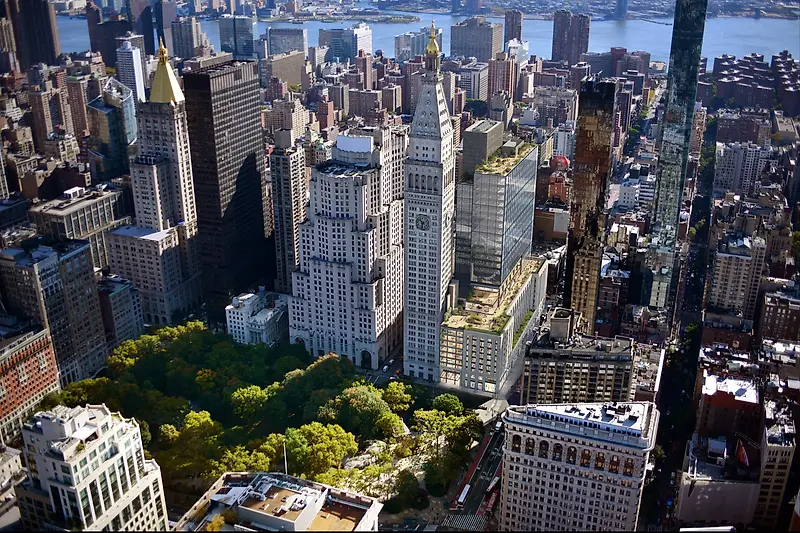 Engineering News Record Dubs One Madison Avenue a "Modern City Classic"
Drawing insight from Annie Savage, Director and Senior Designer, and Andrew Werner, Senior Associate Principal and Project Manager, the article delves into how KPF adapted an outdated building's structure to support a modern office tower.
One Madison Avenue, located next door to the landmark clocktower at 5 Madison Avenue, is a $2.3-billion adaptive reuse project for developer SL Green Realty. To transform the 70-year-old existing building into a contemporary, 27-floor office tower, KPF began by removing the five top floors of the existing structure and its outdated core. This allowed the team to implement a new, more efficient structural core and add new floors clad in a glass curtain wall above what remained of the limestone-clad building.
The Engineering News Record article goes into detail about this demolition process as well as the many engineering feats that were pulled off to achieve such a dramatic reimagining of an existing building. "We came up with a scheme of mega-columns threaded through the building to eliminate the need for additional horizontal structure," Annie recounts in the piece. "We were really able to maximize the floor-to-floor heights and create unique and desirable floors at the concrete podium and then [support] this new steel tower above." KPF's partners in this ambitious undertaking were structural engineer Severud Associates and Tishman Construction.
As a strategy, adaptive reuse allowed the project to retain what was valuable about the existing building, namely its historic context and details, while making it a more useful space for today's office tenants. Andrew explained: "We wanted to harvest what was efficient in the existing building and retain historic elements important to the neighborhood and to the character of the building. We then infuse it with what today's tenants need—access to light and air, [modern] elevator systems and life safety systems, power and data." Learn more about KPF's approach to adaptive reuse here.
The project is expected to be complete later this year and open in early 2024; several major tenants including Franklin Templeton Investments and IBM have already signed leases. Retaining 67% of the original structure reduced embodied carbon emissions by 40% compared to the complete demolition and ground-up construction of the same building. Additionally, the project is expected to achieve a LEED Gold rating and a WELL certification.
Read the full story from Engineering News Record here.