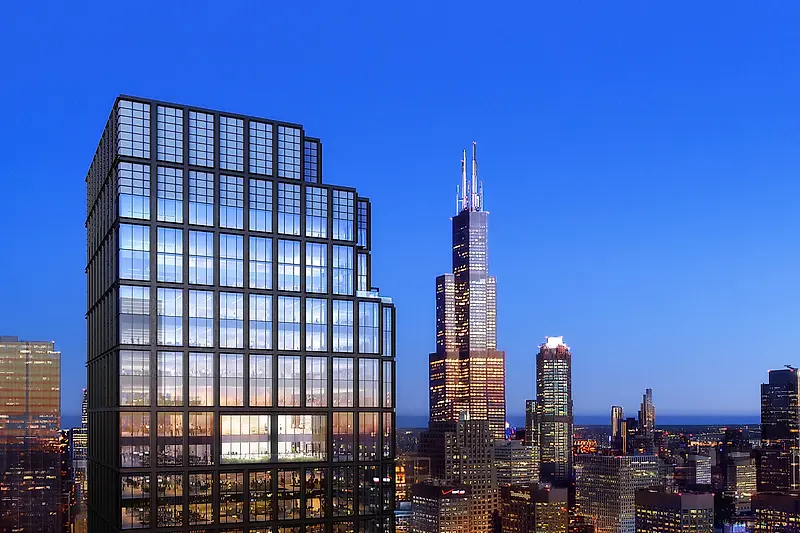 Design for 725 West Randolph Street Revealed in Crain's Chicago Business
The KPF-designed tower, developed by Related Midwest, rises 41 stories in the Fulton Market district, and contributes an 11,500-square-foot public plaza at ground level.
725 West Randolph Street is primarily comprised of office space across a variety of floor plates, enhanced by multiple terraces and balconies. Additional amenities, including a podium rooftop pool, 17,000 square feet of restaurant space, and designated programming for the flagship Equinox Fitness Club and Spa are located in the building's podium.
"Our design for 725 Randolph envisions a new model for the post pandemic workplace," said KPF Design Principal Trent Tesch. "It's a design that is clearly grounded in Fulton Market, but also innovates in active ground floor social planning, multiple indoor / outdoor moments, and a distinctly robust amenity program. These innovations are celebrated through the architecture; a terraced southern façade, a dynamic programmed podium, and multiple loggias with views to Fulton Market and the downtown core. Our goals are ambitious but necessary to elevate the spec office building with a new breed of sustainable, dynamic, and inclusive priorities to elevate the lifestyle of Chicago's workforce."
Speaking with Crain's Chicago Business, Related CEO Curt Bailey described the project as "a place workers want to go to, spend time at, collaborate at" noting "there is not a lot of that, and certainly very little available in the market."
The project is easily accessible via public and personal transportation, located a block from Chicago's Green and Pink lines and adjacent to the Kennedy Expressway, and features ample bike parking options as part of the plaza. The tower's stepped form references the Downtown Loop's iconic high-rises while the industrial-style expression of the façade, with black metal fins and extruded frames, takes inspiration from the site's meatpacking history.
Bailey explains that dynamic office buildings are the key to restoring urban vibrancy, asserting that "building new office space that people want to commute to and spend time in (will) create a better downtown."
Read the full article from Crain's Chicago Business here.