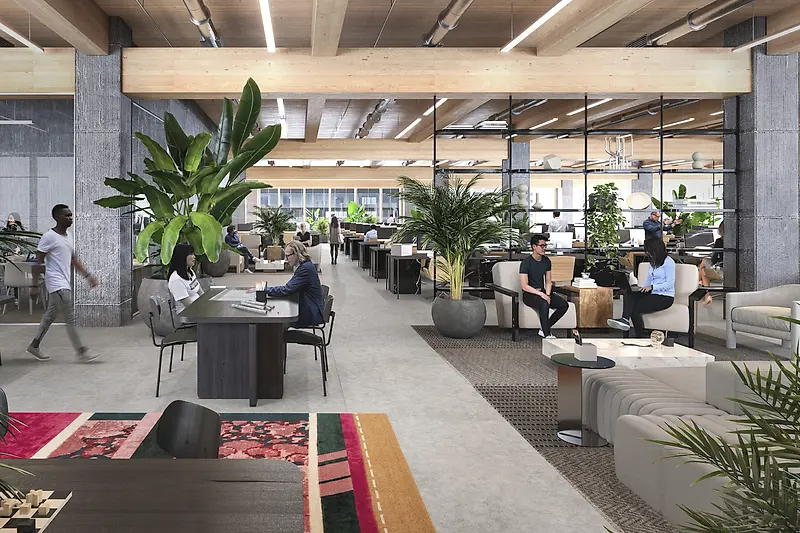 Carlos Cerezo Davila Joins Mass Timber Panel at Chicago Architecture Center
On September 19, KPF's Environmental Design Director participated in a conversation about designing large, urban-scale developments in mass timber as part of the exhibition Reframed, The Future of Cities in Wood.
Mass timber is rapidly gaining popularity as a building material in the United States. Already in regular use in Northern Europe, timber is prized for its small carbon footprint, especially compared to alternatives such as concrete and steel. Though it's often thought of as a material for relatively small projects, KPF and other boundary-pushing architects have begun to design and execute timber projects at a scale previously thought impossible. To envision the possibilities of timber as a building material that can be the basis for the large-scale, low-carbon urban developments of tomorrow, the Chicago Architecture Center convened a panel of architects and sustainability experts. Carlos shared KPF's perspective on using timber in concert with other materials to create hybrid mass timber structures that can be built taller and larger than their all-timber counterparts, a strategy the firm is employing at Burrard Exchange in Vancouver, Canada, which will be the tallest hybrid mass timber office building in the world.
The panel was presented in conjunction with Chicago Architecture Center's exhibition, Reframed: The Future of Cities in Wood, and included representatives from the Council on Tall Buildings and Urban Habitat (CTBUH), Schmidt Hammer Lassen, DIALOG, SOM, and Studio Gang. The exhibition and lecture series were presented by the Softwood Lumber Board and created in partnership with CTBUH.
Learn more here.