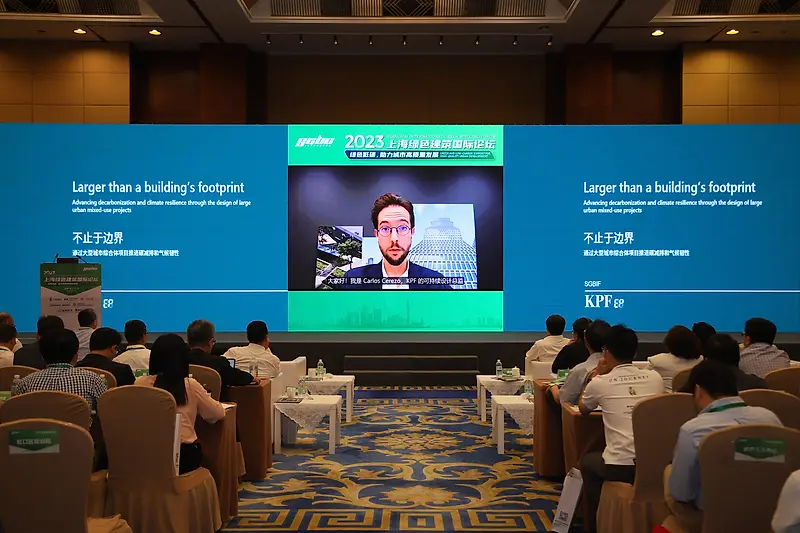 Carlos Cerezo Davila Delivers Keynote at Shanghai Green Building International Forum
On June 13th, the KPF Sustainable Design Director spoke about KPF's approach to decarbonization and climate resilience in urban design.
Titled "Larger Than a Building's Footprint," Carlos' presentation highlighted KPF's innovative approach, emphasizing that the firm's design solutions go beyond a building's physical form and demonstrating how the firm applies these principles to large mixed-use projects around the world. Utilizing case studies, Carlos featured HKUST Guangzhou for its carbon-neutral-ready design and Shanghai North Bund Center as the first zero fossil fuel supertall. He also went into the importance of recognizing embodied carbon and shared adaptive reuse projects that utilize various techniques to renovate a building. Carlos closed his presentation by emphasizing the firm's increased attention to designing resilient environments that can adapt to the changing climate and extreme weather patterns.
The Shanghai Green Building International Forum focused on green and low-carbon high-quality urban development. Attendees included Vice Chairman and Deputy Secretary of the Party Committee of the Shanghai Municipal Committee of the Chinese People's Political Consultative Conference, Xiao Guiyu; Deputy Secretary-General of the Shanghai Municipal Government, Wang Weiren; Secretary of the Party Committee of the Shanghai Municipal Committee of Construction and Transportation, and Director of Shanghai Housing and Urban-Rural Development Management Committee, Hu Guangjie; Academician Wei Dunshan; and Academician Jiang Huancheng.
To learn more, click here.