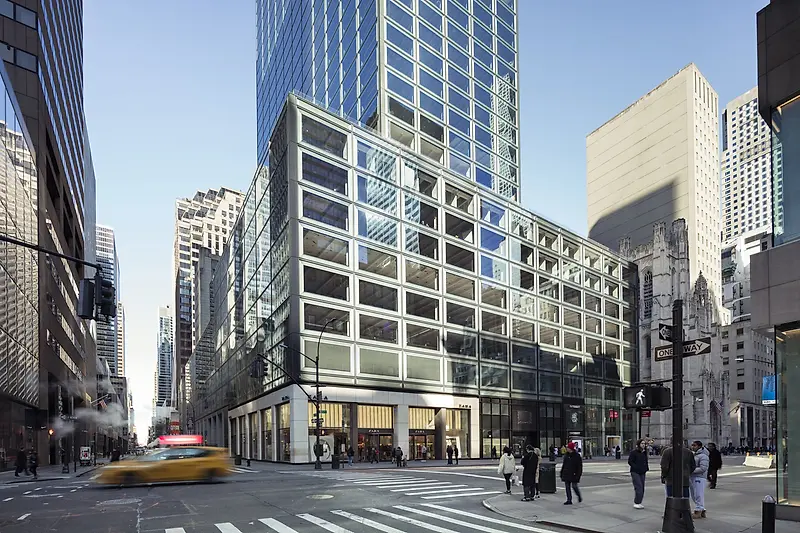 Building Design + Construction Features KPF's 660 Fifth Avenue in New York City
The article explores how KPF re-skinned an existing modernist office building, making it more comfortable and energy efficient.
The 500-foot-tall 660 Fifth Avenue, formerly known as 666 Fifth Avenue, first opened in 1957. At the time, its façade of aluminum panels with integrated windows was cutting edge, but by today's standards, it was woefully inefficient for heating and cooling, and limited the interior's access to daylight and views.
Lauren Schmidt, KPF Principal, is quoted in the piece, saying: "One of the important aspects of an adaptive reuse project is finding the existing value in a building, and identifying areas that can create more desirable space for users. The existing façade at 660 Fifth Avenue was one of the first curtain wall systems when it was built in the 1950s and very modern at the time, but it had limitations in terms of thermal and acoustical insulation, as well as small windows."
To update the tower and reposition it for today's office tenants, KPF removed the existing façade and replaced it with large glass panels that provide not only floor-to-ceiling windows but a much tighter thermal envelope and greater energy efficiency. "We approached the façade as a clean slate and proposed opening it up completely with units that would span column to column. This, in a sense, allowed the columns to disappear and create open views. It was a great opportunity to propose something that was perhaps considered atypical, but actually, as we worked through the logistics of it, made sense for a number of reasons and was highly efficient," Lauren explains.
Photographs accompanying the Building Design + Construction article show how workers removed the outdated façade and hoisted the new panels—some of the largest installed anywhere in New York—into place. Interior images, meanwhile, show off the dramatic views of Fifth Avenue, the city skyline, and landmarks St. Patrick's Cathedral now visible through the massive windows.
Read the full story from Building Design + Construction here.