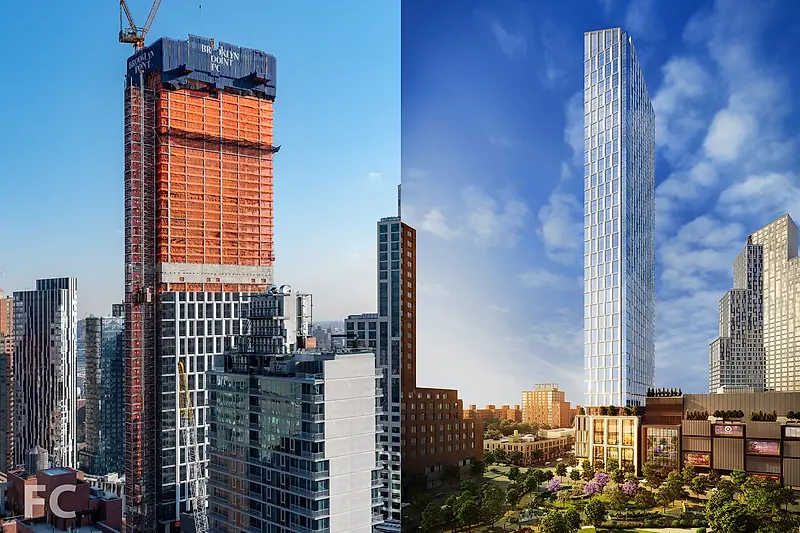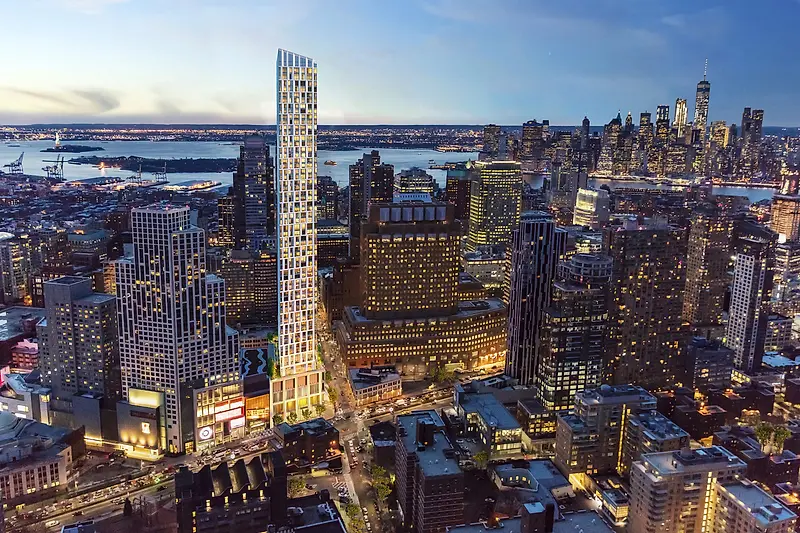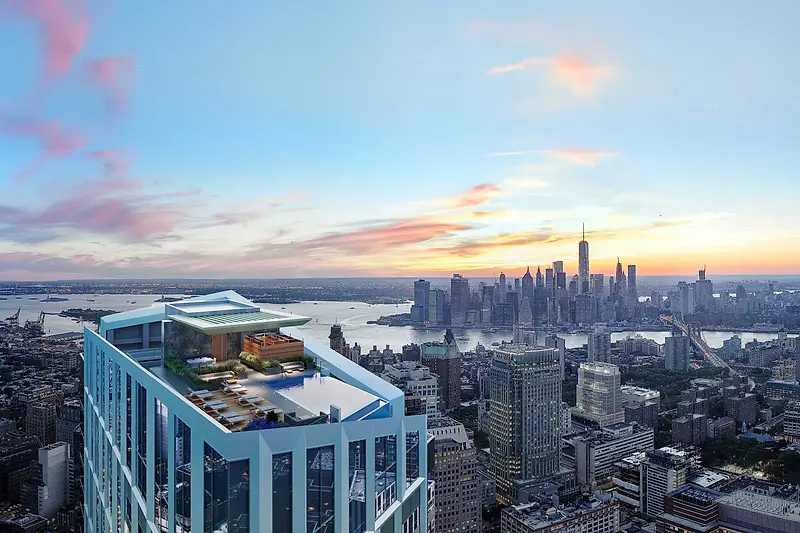 Brooklyn Point, the Borough's Tallest Building, Tops Out
Located above City Point, the Downtown Brooklyn skyscraper reaches 720 feet.
Cementing its title as the tallest building in Brooklyn, the 720-foot, 68-story Brooklyn Point reached the major construction milestone this spring. With a sculptural façade and eclectic materiality, the tower sets a new standard for luxury living in Downtown Brooklyn while suiting the borough's renowned creative spirit. Anchoring City Point, the largest food, shopping, and entertainment destination in Brooklyn, the tower serves as a gateway to the burgeoning mixed-use neighborhood.
"At Brooklyn Point, we wanted to honor the creative spirit of Brooklyn, while crafting a new landmark for the borough's downtown," said KPF Design Principal Rob Whitlock. "To that end, we picked up on the diversity of scale and texture of the site's context in the building's expression. Brooklyn Point features a sculptural façade, with an eclectic materiality that plays with light and shadow, giving the tower an elegant solidity."
Designed as two folded sheets, the façade features reveals at the northeast and southwest corners while the crown angles up to a point, bestowing the building with an iconic profile. The curtain wall is composed of stacked, double-height frames that accentuate the verticality of the building while the facetted planes add depth and texture to the exterior. At the base, the podium continues the framed glazing while responding to the diverse streetscape; each side is treated with a unique scale and materiality of the frame motif to correspond to the program and atmosphere of the block.
"Inherent in the surrounding streets of Downtown Brooklyn is an angularity reflected in our design, bringing the urban grid up through the building's façade to its crown," said KPF Director Bruce Fisher. "An inflection on the skyline, Brooklyn Point's angled crown creates a center point to the silhouette of City Point and the borough from afar."
Adding to the building's allure is an unprecedented array of lifestyle amenities and services spanning over 40,000 square feet. The building's roof will feature the highest residential infinity pool in the Western Hemisphere, offering breathtaking views of the Manhattan skyline. Brooklyn Point is close to 11 subway lines and will be across the street from the new 1-acre Willoughby Square Park.