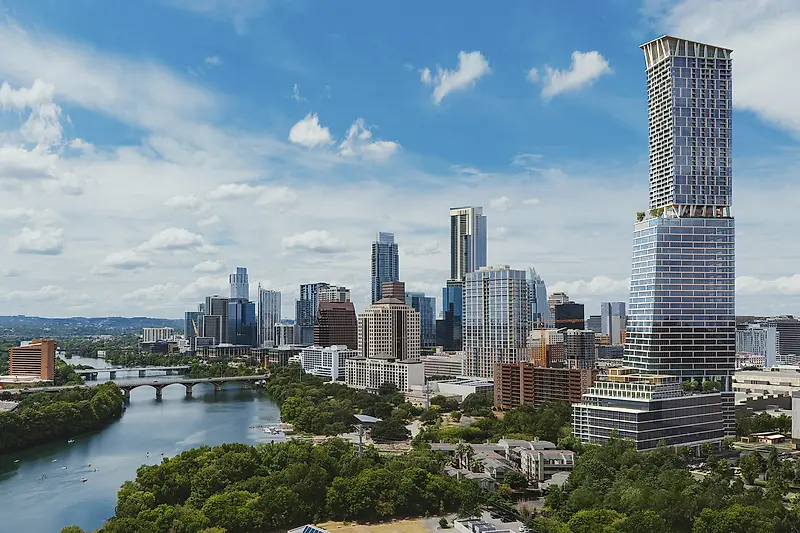 Bloomberg CityLab Explores Waterline and the Future of Texas Supertalls
With insight from KPF President James von Klemperer, the outlet highlights the spate of new development in Austin, including the KPF-designed mixed-use tower.
Slated for completion in 2026, Waterline will be the tallest building in Texas at 1,022 feet high. The project marks the beginning of a boom of supertall development in Austin, defined as a building more than 300 meters or roughly 984 feet in height, where previously only two existed in the entire state. The rapid change of the city, the article notes, is due to "its pivot toward high-tech manufacturing …With the Austin metro area taking point in the production of both superconductor chips and electric vehicles, demand in this famously livable city is high."
Incorporating residential, hotel, and office space, Jamie von Klemperer notes that the project is "more of a vertical city than a singular sculpture." Jamie also discussed the composition of the tower, which organizes the programming into distinct blocks in order to create a more visually accessible supertall. The project includes "blow-through" zones to help mitigate wind impact and further strengthen the structural bracing systems. "Like the Eiffel Tower or the Empire State Building, the broader the spacing of structural elements as the building meets the ground, the better," he said.
Read the full article from Bloomberg here.