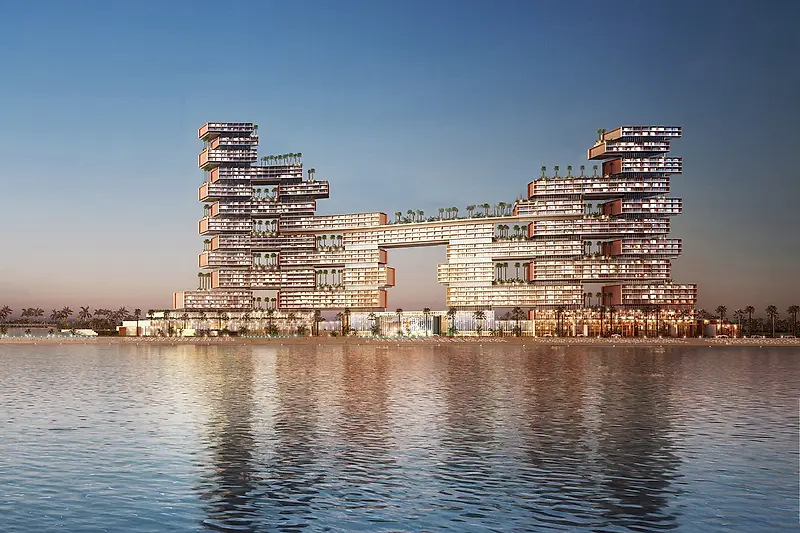 Atlantis The Royal Raises the Bar for Luxury in Dubai, Says Bloomberg
The KPF-designed resort is the focus of a new article from the outlet, highlighting the construction process, architecture, and extensive amenity offerings of the 43-story hotel and apartment complex that local officials hope will fuel tourism growth to the city.
The article, "Is This Dubai's Most Luxurious Hotel Yet?" notes how the project, located at the apex of Palm Jumeirah, exemplifies the city's rising bar for opulence. The iconic, stepped form of the project is described in the article as a 'deconstructed skyscraper' with a central sky-bridge that links either side and features a 90-meter pool. Atlantis The Royal includes over 1,000 guest rooms and apartments, 92 pools, 17 restaurants and bars, a 3,000-square-meter wellness center, and more. The resort is home to Dubai's largest privately-owned beachfront, spanning 2 kilometers just for guests and residents.
The development of Atlantis The Royal is a key component of Dubai's strategy to double tourism over the next two decades with the goal of making it the most-visited city in the world. The article quotes Kostas Nikolaidis, an expert on hospitality data in the Middle East for STR, saying, "Iconic hotels like this not only bolster the image of the destination but can also often stimulate new demand."
Read the full article from Bloomberg here.