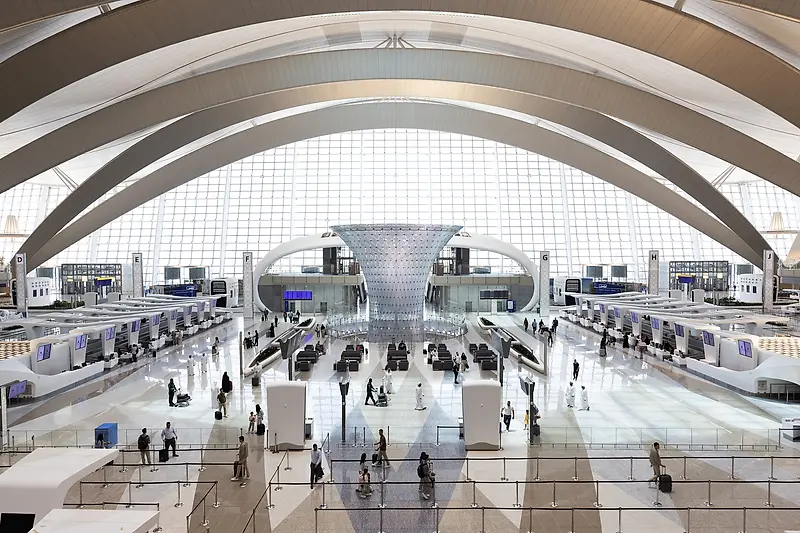 Aletihad Newspaper Highlights Sustainable Design Features of KPF's Abu Dhabi Airport Terminal A
The newly opened airport terminal in Abu Dhabi is not only one of the largest airport terminals in the world but one of the greenest.
KPF's Terminal A at Abu Dhabi International Airport doubles the transportation hub's capacity and can handle up to 45 million travelers per year. It also boasts a wide range of sustainability features, which earned the project three pearls in Abu Dhabi's Estidama Pearl Building Rating System and point the way toward air travel's sustainable future.
At Terminal A, sustainability begins with the project's undulating, sand dune–inspired form: Over 90% of the structure's steel is recycled. Outside, more than 70% of the landscaping is planted with native, drought resistant species, reducing the need for irrigation. In fact, water efficiency is a theme throughout the project, which cuts water use by 45% compared with a baseline building.
Short- and long-term parking lots, meanwhile, have been outfitted with photovoltaic solar panels that do double duty, keeping cars cool and producing 3 megawatts of renewable energy. This helps contribute to the terminal's 5,300 tons of annual carbon reductions, which is the equivalent of taking 1,060 cars off the road each year. Read the full article here.