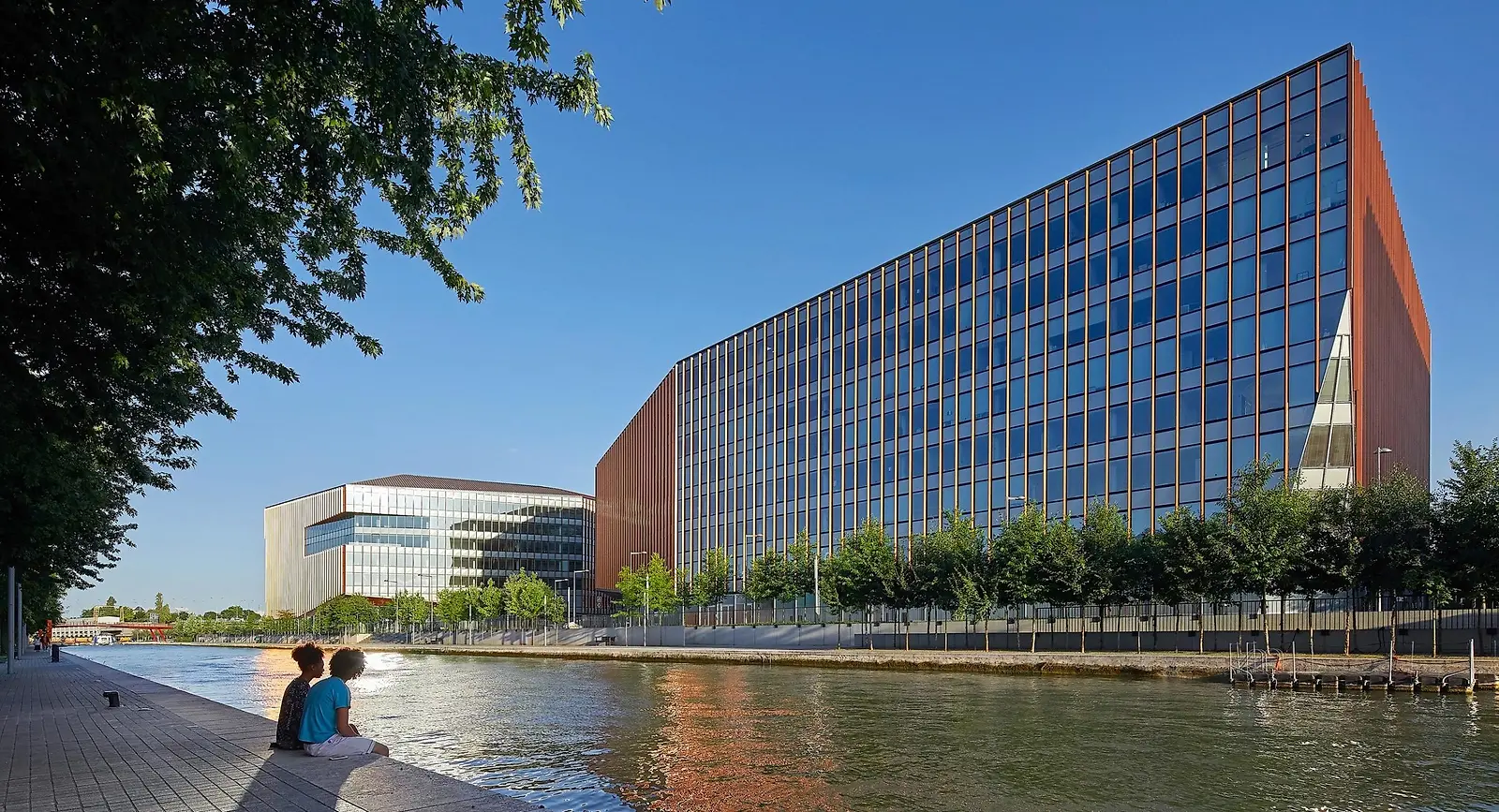 Parc Du Millenaire 3 & 4
Ministry of Justice
Located on a major road encircling the city of Paris, Parc Du Millenaire 3 and 4 (PDM 3 and 4) serve as the physical and symbolic gateway to the larger Parc Du Millenaire complex. The landmark structures communicate flexibility and openness and are an exemplary sustainable development within their metropolitan framework.
Situated between the Peripherique Boulevard to the south and the navigable Saint Denis canal to the north, the two, 8-story office towers establish a visual connection between the city's "intra-muros" and its suburbs. The buildings' bold, polygonal forms are sliced, cut, and punctured in response to their proximity to the ring road and canal. Each building has a vertical circulation core located at opposite ends of a large central atrium. A series of breakout volumes extrude from these sky-lit atria, housing diverse programmatic functions and communicating a dynamic, visual rhythm. The typical office layouts maximize natural light, ventilation, and exterior views.
The high-tech façade subtly changes in reaction to the various elevations of each structure, becoming a refined, adaptive skin across varied environmental and urban conditions. Carved out of the south facades to achieve 50% opacity, multi-story windows offer outside travelers a glimpse into the structure and provide tenants with dramatically lit interior space. Facing Peripherique Boulevard, the double-skin façade acts as a thermal buffer, with its inner glass allowing natural light and the reflective outer glass unifying its external appearance. Gradually "morphing" into a single skin system, the façade features vertical aluminum fins that are tinted ochre in color and achieve continuity with the surroundings.