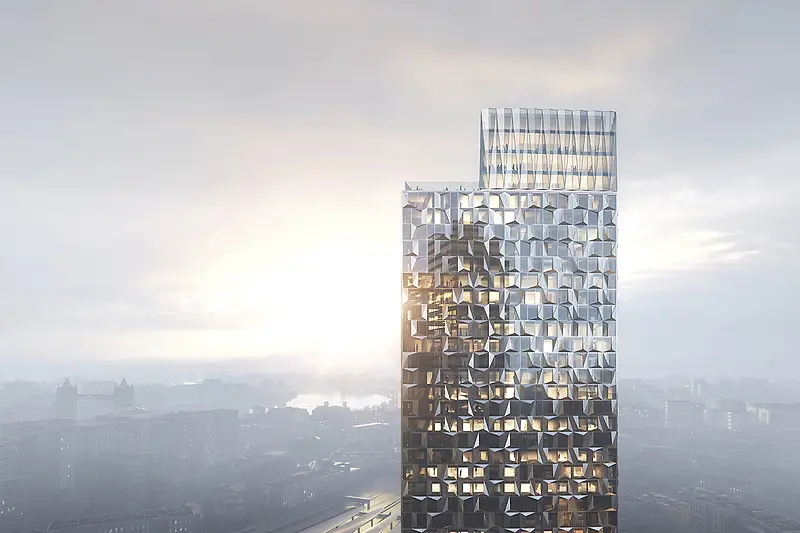 Work Starts on Site at KPF's Chapter London Bridge
The 39-storey building, for Greystar and PSP Investments, will provide best-in-class student accommodation, featuring 1,400 square meters of state-of-the-art amenity space to build community.
Chapter London Bridge is designed to be energy efficient, 100% electric, with a 100% certified renewable energy supply and rooftop solar. The development will leverage modern methods of construction, to minimise emissions from transport, concrete waste, and water usage on site. The project aims to achieve a BREEAM rating of "Excellent" and a five-star Global Real Estate Sustainability ("GRESB") score.
"We're delighted to be working for Greystar, a forward-thinking client that's willing to embrace innovation in the brief, design, and delivery of this flagship development in Southwark," said John Bushell, KPF Design Principal. "Since the initial planning decision in May 2019, the design has progressed in collaboration with Mace, maintaining the original design intent. We have rethought the building's systems for energy efficiency and are embracing modern methods of construction to improve operational and embodied carbon, reduce construction times and minimise disruption to neighbors. This very proactive collective effort has enabled the project to move forward to the delivery phase."
"Chapter London Bridge will showcase the very best in architecture, amenities and services to create an environment where students can truly thrive," said Will Krespi, Director of UK Development at Greystar Real Estate Partners.
Main construction work on Chapter London Bridge is due to start in March 2022, with the project scheduled to open for the 2025 academic year. Read more here.