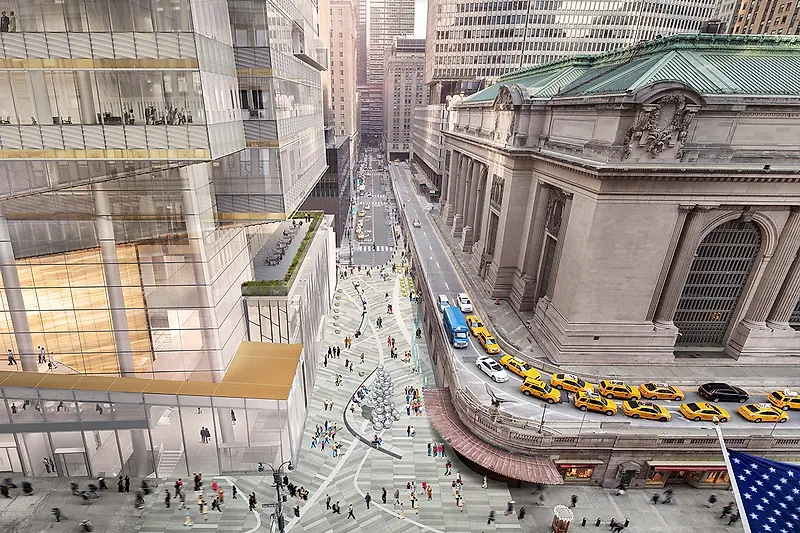 KPF Addresses Urban Design at Smart Cities New York
The second annual Smart Cities New York (SCNY) conference welcomed KPF President James von Klemperer to deliver a lecture on data, density, and the future or urban design. Hosted at the Brooklyn Navy Yard, the conference was "Emerging Power of Cities."
With over 2,100 participants including urbanists, mayors and entrepreneurs from over 300 cities, von Klemperer was the only architect invited to present. His presentation began with a history of urban design, citing an 1893 map of Chicago from the World's Expo and similarly aged image of London's low-rise skyline. He then transitioned to the present, noting that urban design both now and then revolved around flexibility, mobility, energy, resilience, comfort, and sustainability. Referencing projects like Hudson Yards and One Vanderbilt, von Klemperer showed how KPF strategizes smarter urban design with technology in the face of increasing population density.
Hudson Yards' public park changes the definition of a landscape oasis in an urban setting. Hundreds of caissons (underground concrete columns) support the park, elevating its platform above the train system. With heat from the trains below reaching 150 degrees, the park contains a jet-powered ventilation system that allows vegetation growth. The park, consequently, boasts an abundance of plants with 200 trees and 28,000 or more plants, enabled by a sophisticated layered system for proper aeration and irrigation.
One Vanderbilt, located between Rockefeller Center, Bryant Park, and the New York Public Library, and Grand Central Terminal (GCT), redistributes human density. The street and lower-levels of One Vanderbilt allow eastside access that increases 193% of existing commuter rail trips to GCT and helps to circulate and disperse 7,600 pedestrians an hour via a multi-level connection. Through data visualization and analytics made possible by KPFui, One Vanderbilt integrates client objectives and city + community objectives for a harmonious urban solution. .
This design-driven approach reflects the efforts of other major cities such as Toronto, London, Cape Town, and Shenzhen. Looking to the future of these cities and others, von Klemperer segued to a conclusion concerning the future urban design and its focus on the pedestrian, autonomous vehicles and data tracking, and customization based on the seasons and the time and occupancy of people in a place. SCNY is North America's leading global conference exploring the emerging influence of cities in shaping the future, all with the particular aim to facilitate access to public-private partnerships and build smart and resilient cities.
Watch a sizzle reel of the entire conference here.