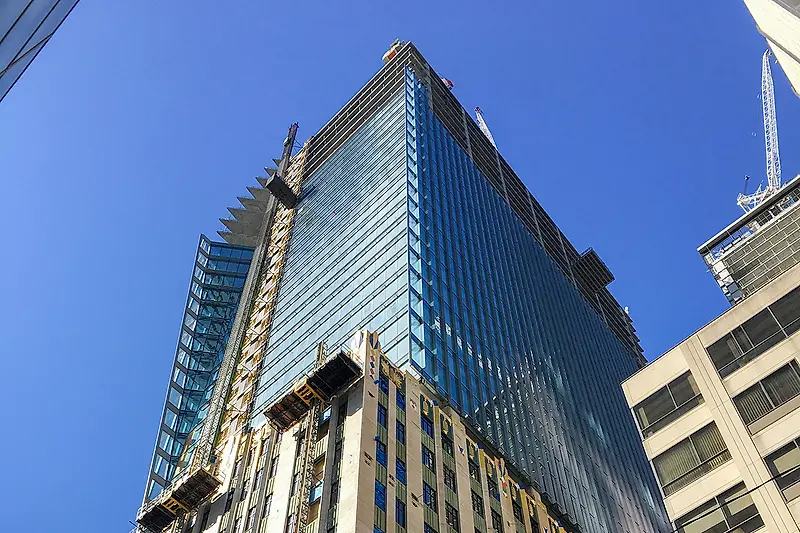 A Glimpse into the Recently Topped-out Ernst & Young Tower
KPF's recently-topped-out Ernst & Young Tower (100 Adelaide) in Toronto was featured by UrbanToronto in a trio of articles from this week and last.
The two articles explore different angles on the project.  The first offers highlights from a full tour of the 40-story building, previewing the Class AAA office space with glimpses of the tower's roof and lobby.  The second explores how the new structure integrates the design of the previous building on the site, the Concourse Building, which was built in 1928 and demolished in 2013.
At the street level, it may well appear that the Art Deco Concourse Building – though with a conspicuously new and polished appearance – was never demolished at all. That's because the design for the Ernst & Young Tower carefully recreates the original west and south façades of the Concourse Building. Below and beside the shimmering, angular glass curtain wall of the tower, the 16-story façades have been reconstructed, featuring preserved mosaics and murals as well as the intricately restored stonework of the base. 
The third and final article takes a closer look at the tower's roof, exploring the mechanical penthouse, and what will be a unique 'lantern light' that will showcase the architectural form of the tower at night.
Touring the Financial District's Recently Topped-Off EY Tower
EY Tower: An Inside Look at the Concourse Building Replica
EY Tower Roof: Unique Presence Joins Financial District Skyline