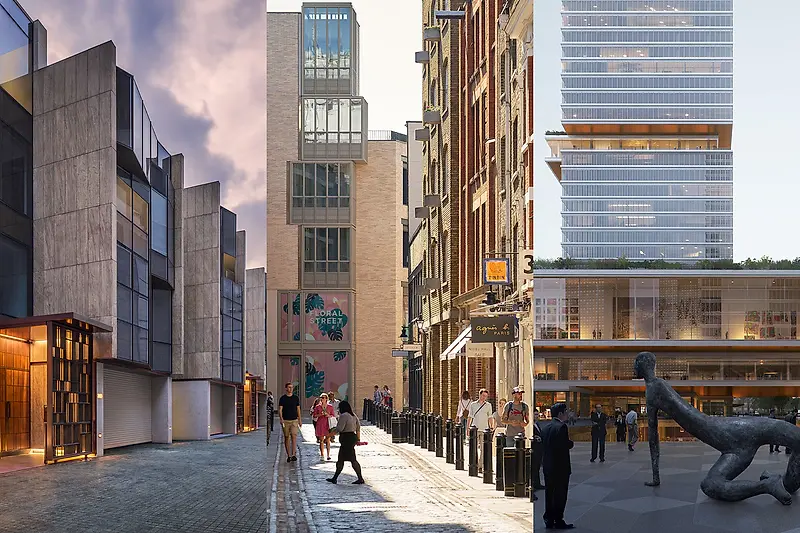 Three KPF Projects Win 2019 International Architecture Award
23-39 Blue Pool Road, Floral Court, and Huamu Lot 10 were honored in three separate categories.
Now in its 14th year, the International Architecture Awards, hosted by The Chicago Athenaeum Museum of Architecture and Design and The European Centre for Architecture Art Design and Urban Studies, is the oldest awards program in the industry to celebrate the best international architecture. This year, judges evaluated submissions based on their originality, accessibility, sustainability, design, and ability to improve the lives of tenants.
A winner in the Multi-Family Housing category, 23-39 Blue Pool Road introduces the townhouse paradigm to Hong Kong, offering an alternative to the residential skyscraper prototype that dominates the landscape. 23-39 Blue Pool Road was also the first project in the world to be registered LEED for Homes International Pilot.
London's Floral Court is one of the two winners in the Mixed-Use Buildings category. By uniting contemporary and historic architecture through different materials and styles, Floral Court offers a variety of public spaces, including dining and retail, that feel innovative and new yet blend seamlessly into the existing neighborhood.
Huamu Lot 10, an award recipient in the Skyscraper/High Rise category, emphasizes sustainability and art. Located in Shanghai, the complex is comprises three office towers and a street-level museum. The project features a smart façade, lush greenery, panoramic views, and spaces conducive for exhibiting large-scale artwork.
Winning projects are diverse in their functions and geography. Located in 41 different countries and divided into 27 categories including Airports and Transportation Centers, Bridges and Infrastructure, Libraries, Parks and Gardens, and Private Homes, the projects represent the most successful innovations in global architecture today. An exhibition displaying the winning projects, entitled "The City and the World", will premiere at Contemporary Space Athens on September 13 before travelling through Europe in 2020. Learn more about the Awards and the 2019 winners here.