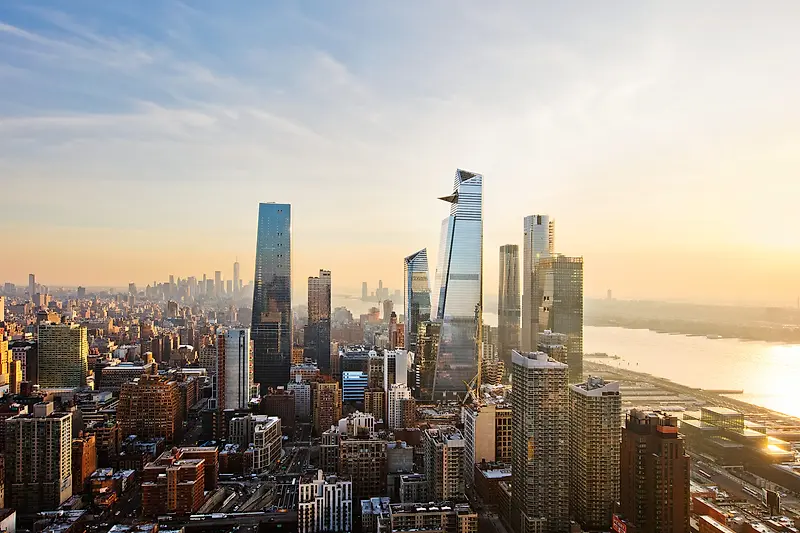 The Wall Street Journal Commends 30 Hudson Yards
Michael J. Lewis, architectural critic for The Wall Street Journal, highlights the building's observation deck, relationship with 10 Hudson Yards, contextual gestures, and lobby materiality in his piece.
In the online and print feature, Lewis engages in a thoughtful and considered examination of the architecture of the KPF-designed 30 Hudson Yards. After opening with his impression of "the most spectacular vista of any building in America," Lewis asserts that the Hudson Yards development has transformed what was previously a barrier to foot traffic on the far west side of Manhattan into an intersection, citing Jane Jacobs' observation that cities flourish around these inflection points.
Discussing the relationship between 30 Hudson Yards and 10 Hudson Yards, its shorter neighbor to the south, Lewis notes that "the two buildings seem to be leaning away from one another, if playfully… Because of their sharp angularity, and the distortions of foreshortening, the relationship of the buildings seems to change as one approaches them, as if engaged in a slow-motion minuet." The architectural elements of 30 Hudson Yards, including its sleek form and contextual gestures, also receive high praise, while Lewis describes the lobby as "rich and varied in its textures."
To read the full piece online, please click here.