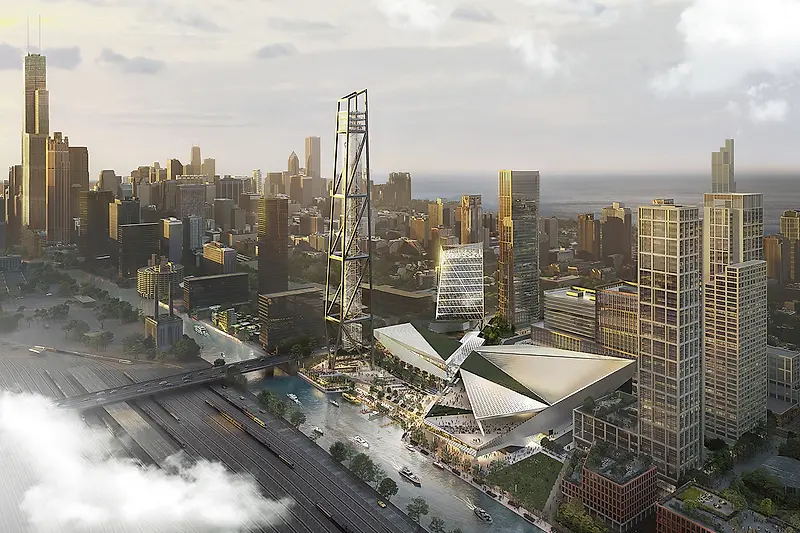 The Entertainment District Shortlisted by Chicago Mayor
The KPF-designed Entertainment District, located at The 78, is one of three finalists chosen by Mayor Lori E. Lightfoot to move forward in the process to become Chicago's sole casino.
Situated along Chicago's riverfront, The 78 is a 62-acre, mixed-use neighborhood that links Downtown and the South Side. The Entertainment District serves as a catalyst for The 78, a neighborhood designed following a community-first approach with affordable housing and an innovation district anchored by the University of Illinois Discovery Partners Institute. The hub of the Entertainment District is the Rivers 78 Casino, which will highlight local, up-and-coming minority- and women-owned food concepts. On the topic of the project's impact, KPF Principal Ko Makabe shared, "It is great to be part of The 78, which will create a new community and destination at the South Side of Chicago."
Upon the Mayor's announcement, President of Related Midwest Curt Baily said "We are thrilled that Rivers 78 is a finalist as the City of Chicago makes this historic decision… This development creates a geographical link that previously did not exist among the communities of Chinatown, Pilsen, Little Italy, Bronzeville, Bridgeport, South Loop, and the Loop, uniting our city in a single destination where people of all ages and backgrounds can gather in community and enjoy what our city has to offer.
The shortlist selection follows a process of extensive evaluations to develop a world-class casino-resort and entertainment experience in Chicago. The next step includes community engagement meetings between the finalists and the city, offering the opportunity for public questions and comments.
Read the full announcement from the Mayor's office here.