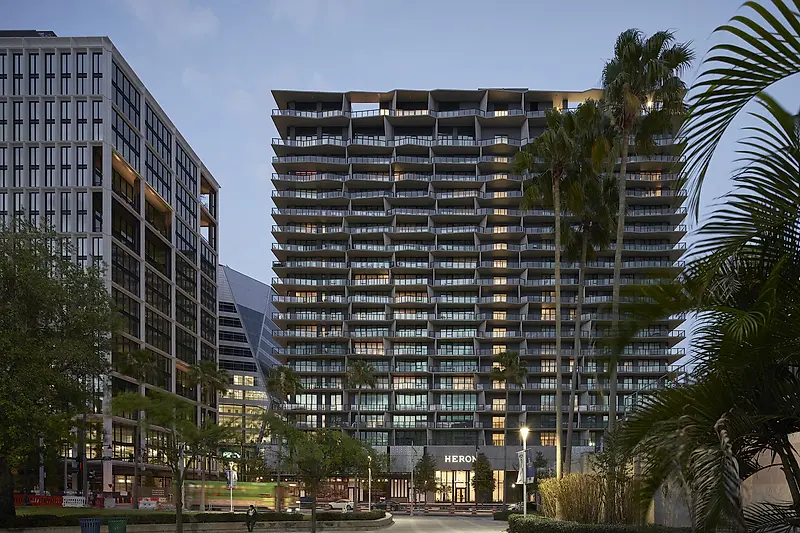 The Architect's Newspaper Explores Heron's Visual Creativity
The outlet recently sat down with KPF Principal Trent Tesch to discuss the design process behind the residential building's angular expression.
The article, "At Heron in downtown Tampa, angled structural walls create visual excitement," by Aaron Seward, begins by noting the project's contributions to the world's first WELL-certified neighborhood, Water Street Tampa. Two paired towers of rental apartments are connected through a mixed-use podium that houses parking and an active retail street front.
Tesch spoke with Seward, providing insight into the design process, "We set out early on to think about what we could do from a planning and logistics perspective to make the towers elegant and straightforward and build with as little stress on the environment as possible… There's a real truth and honesty about materiality and structure."
Heron's material palette heavily features structural board form concrete and bronze-colored aluminum, in addition to "monolithic laminated glass windows set between dark gray stucco walls." Emphasizing the natural state of these materials, the structure mimics an organic expression through the building's agitated angles seen in the wrap-around terraces.
Heron was also recently featured in Metropolis, which detailed the project's wellness-forward design. Heron is the recipient of the AIA Tampa Bay Design Awards' highest honor, the H. Dean Rowe Award for Design Excellence.
Read the full article from The Architect's Newspaper here.