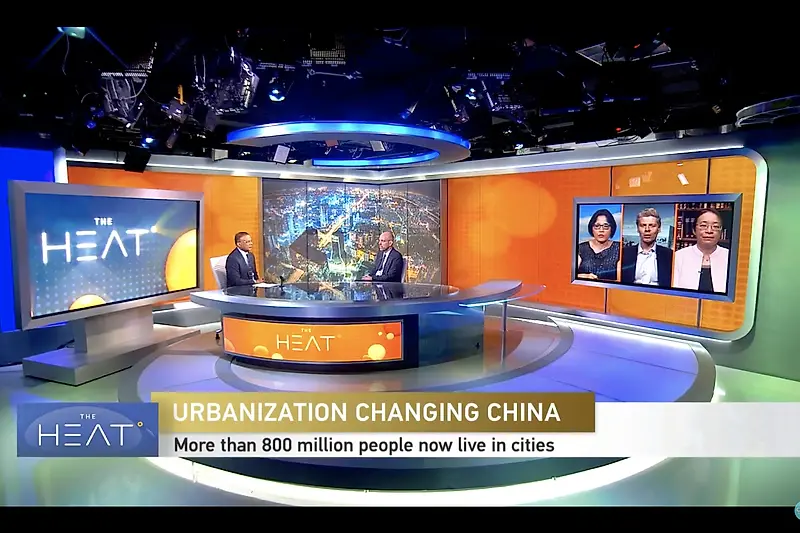 Stefan Al Discusses China's Rapid Urbanization on CGTN
KPF Senior Associate Principal architect and urban designer Stefan Al joined CGTN's broadcast The Heat to discuss the challenges of China's rapid urbanization as they relate to sustainability and human scale.
The Chinese government estimates that more than 813 million people – nearly 60 percent of the population – now live in urban centers. Al emphasized the impact of this shift on the economic wellbeing of about half a billion people who have been lifted out of poverty in the past 30 years – evidencing the link between economic growth and urbanization. However, city planners must keep in mind the quality of life challenges that remain, particularly three major areas of focus outlined by Al: shifting to more walkable city designs at the human scale, prioritizing sustainability efforts to decrease risks of flooding and other environmental crises, and preserving the values and identity of iconic buildings of the past.
Al presented KPF's Dongjiadu Financial City as a positive example of holistic urban regeneration. This mixed-use community, which functions as the centerpiece of Shanghai's West Bund district, merges diverse programs while preserving the human scale of its traditional urban vernacular. Eleven buildings gather over 450,000 square meters of office accommodation, with each tower rising gradually in height towards a 300 meter tall landmark tower. The development is gathered around a central, landscaped park at the heart of the design, and this significant public open space continues to the Huangpu River at the east of the development and up onto the terraced podiums of the buildings.
Additional panelists Weiping Wu (Director of Columbia University's master's program in Urban Planning), Uwe Brandes (Director of Georgetown University's master's program in Urban and Regional Planning), and Yan Song (Director of the Chinese Cities program at the University of North Carolina) discussed additional impacts of China's urbanization on transportation systems, public infrastructure, economic development, and more.
To view the full broadcast, visit CGTN.