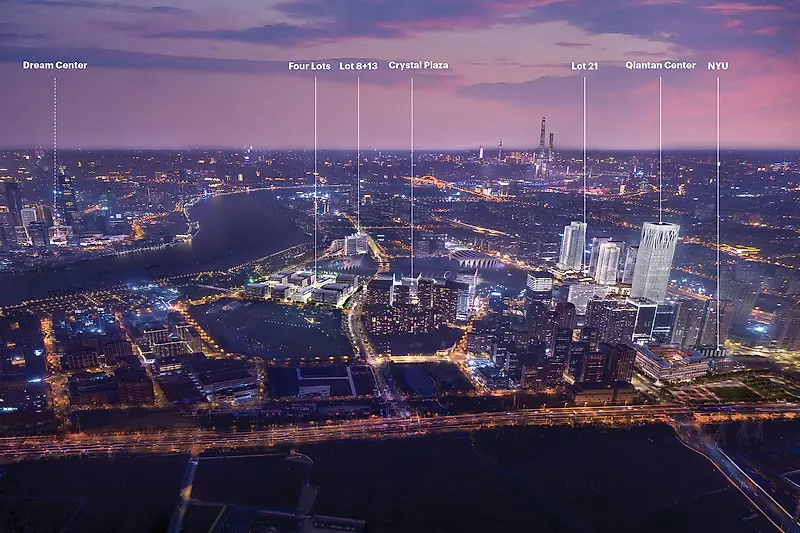 Rebecca Cheng Teaches Urban Design Class at Shanghai's Jiao Tong University
The KPF Principal was invited to speak at Professor Lin Wang's Urban Design class, providing insight into the firm's current and recent work in the city's Qiantan district, spanning six projects.
Located on the south bank of the Huangpu River, Qiantan is a burgeoning new central business district in Shanghai. KPF has two completed works in the district, Qiantan Center, a mixed-use development comprised of a 270-meter office tower paired with a hotel building that houses the Shangri-La Hotel; and Crystal Plaza, a collection of six office and six residential towers centered around a courtyard. KPF's current work in the area includes NYU Shanghai, a full campus organized into one block that provides a gateway for Chinese students to the world and international students to China, opening this year; New Bund Square City, a neighborhood organized into quadrants consisting of separate office villages connected by an elevated pathway; and two additional mixed-use projects: Lots 8+13 and Lot 21.
Rebecca was joined by Jianqiang Tao, Chief Architect at Lujiazui (LJZ) Group, to present on the development of Qiantan. LJZ Group is the developer of the 2.8 million-square-meter Qiantan Area master plan. Jianqiang Tao shared the design vision for the area, to create the first world-class international community in Shanghai.
The course, part of an international graduate school program, was comprised of students from international universities and the Shanghai Jiao Tong University.