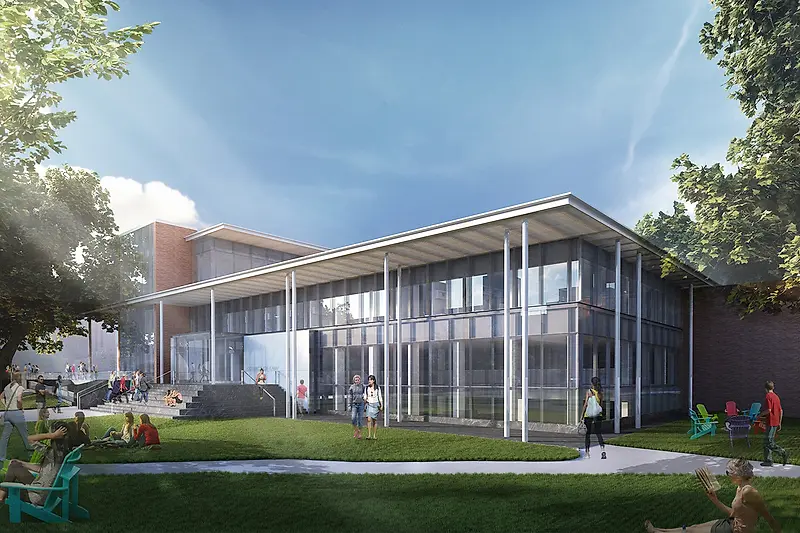 Raising the Bar: University of Kentucky College of Law Celebrates Groundbreaking
On Thursday, September 7th, KPF, Sherman Carter Barnhart Architects, and the University of Kentucky celebrated the groundbreaking for the renovation of the College of Law. Scheduled to open in Fall 2019, the original 1965 building will undergo a 26% expansion adding 11 new classrooms, a new 185-seat moot court room, and over 20 group study rooms.
The renovation reorients the building's entrances to the major axes of campus and offers new clarity to its interior spaces. A clear wayfinding plan will delineate classrooms, offices, and the law library, and add a new feature staircase at its heart that will act as a community hub. On the exterior, a new metal, glass, and brick façade will echo the Memorial hall, one of the campus's iconic buildings opposite the renovation.  A Corinthian portico with its canopied front relates to the original campus while providing a new exterior space.
KPF has designed several major academic buildings for universities across the world, including the University of Michigan's and Arizona State University's Business Schools, the City University of New York's Advanced Science Research Center, and the University of Minnesota's Science Teaching and Student Center. Other law school projects include commissions for Peking University in Shenzhen, China, and NYU and CUNY in New York. With our academic and institutional projects, KPF prioritizes crafting a sense of community for users through inviting, accessible work environments. Ample public space, use of natural materials, and the incorporation of natural daylight all work to enhance the look and feel of our buildings.
Located in Lexington, the state's capital, the University of Kentucky College of Law "engages in rigorous academic instruction by nationally-renowned faculty and commits to the success of its students while furthering its mission of enhancing the public's understanding of legal issues and engaging in law reform." The Lexington Herald Leader reported on the event, quoting UK Law Dean David Brennen: "This project goes beyond a building. [It is about] coming together and investing in UK Law's future, the success of its students, its impact on public understanding of legal issues, and its engagement in law reform. It will certainly help us provide a 21st-century legal education."