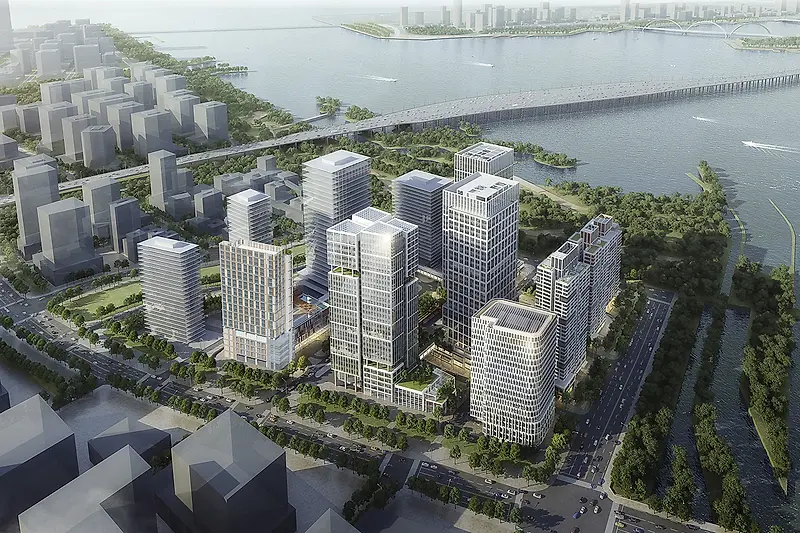 Qianhai Kerry Centre's First Buildings Open in Shenzhen
On Wednesday, September 25th, Kohn Pedersen Fox and Kerry Properties celebrated the opening of the first buildings in the Qianhai Kerry Centre mixed-use development.
KPF President James von Klemperer presented an overview of the design at the event, explaining the four primary goals of enabling social mixing, integrating nature throughout, prioritizing the pedestrian realm, and delivering beautiful architecture.
In support of these, a dense network of public space is spread across the site, ensuring activity through the day and strengthening both the connections between the various phases of the development and the office, residential, retail, and outdoor programs. Connectivity within the district is further strengthened by an underground network of public spaces and above-grade pedestrian bridges, equipped with retail and commercial functions, threading the district together and linking to the nearby MTR station.
Rather than following a conventional approach of placing a building within a landscape, the articulation of the Centre's buildings integrates landscape and public spaces vertically. This occurs in the form of publicly accessible break-out spaces, shaded exterior gardens, lushly planted balconies, and atriums, ensuring that accessible exterior spaces are never more than a few floors away.
Construction is ongoing for Phases 1 and 2 of the development, while Phase 3 is in the design stage.