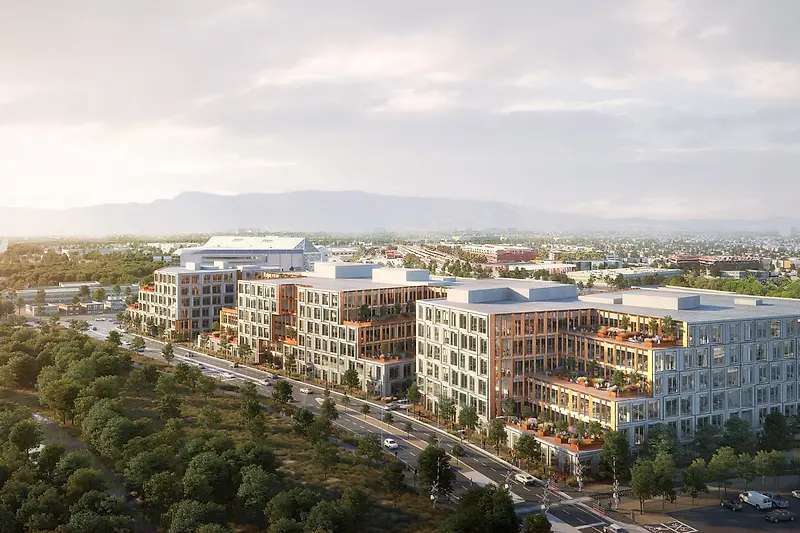 Platform 16 Receives Crucial City Approval
One of the largest proposed projects in downtown San Jose has received final approval from city officials, with construction on the KPF-designed campus expected to start early next year.
Developed by TMG Partners and Valley Oak Partners, the project will include three six-story office buildings with below-grade parking – adding up to about 1 million square feet of new office space near the Diridon Station transit hub and Google's planned San Jose campus.
Projected to open in 2021, the three buildings feature floor plates ranging from 27,000 square feet to 90,000 square feet, as well as 15-foot floor-to-floor heights, and large private terraces on every floor. Each building varies in size, spanning from 157,000 square feet to nearly 500,000 square feet, with views toward Downtown San Jose.
KPF's design strikes an ideal balance between the natural and urban environments, promoting work-life balance. Bronze in color, the terrace façade contrasts the main wall in materiality and scale, evoking an organic composition that also points to the project's sustainability. Manicured green space, accessible on each level, will inspire wellbeing and community gathering outside the traditional office setting.
The development's proximity to Diridon Station provides a prime commute to the area being dubbed San Jose's newest major innovation center. Situated on nearly 5.5 acres, the site has immediate pedestrian accessibility to the Guadalupe River Park and is within a ten-minute walk of the SAP Center arena, restaurants at San Pedro Square, and the financial center of San Jose. The intermodal transit hub will serve Caltain, VTA Light-Rail, BART and a new California High Speed Rail station.
The Registry and The Silicon Valley Business Journal, a local trade publication, covered the project's milestone. Other outlets, such as the Commercial Property Executive and Engineering News-Record and the local Sacramento Bee, reported on the project's former approvals.
Platform 16 is being marketed by CBRE, whose Managing Director Mark Schmidt states, "Large technology companies today realize the importance of their space to attract talent and retain employees. Platform 16's unique architecture, with its exceptionally tall ceiling heights, expansive floorplates, and multiple outdoor terraces, brings a level of design to San Jose not seen before, providing an opportunity for companies to create a workplace that sets them apart from the competition."