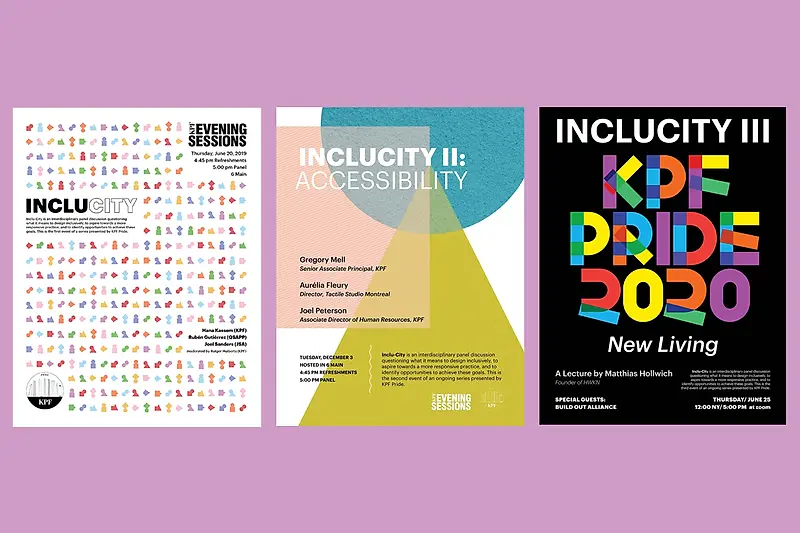 Pedro Câmara Discusses KPF Pride as part of the "Collective Impact" Webinar
On October 21, the Associate Principal joined industry leaders to discuss the group's recent educational lecture series, IncluCity.
Hosted by Buro Happold, the discussion focused on issues of climate change, resilience, health and wellness, diversity and inclusion, equity, and economy. Câmara is a founding member of KPF Pride, a group committed to raising awareness of LGBTQ+ issues within the firm in ways that will inform design thinking.
In the Collective Impact event, Câmara discussed his work curating the group's IncluCity lecture series. Comprised of panel discussions, presentations, and lectures, IncluCity events address issues of inclusivity, accessibility, and community engagement in the design of cities. Earlier this year, KPF Pride welcomed Matthias Hollwich, principal and co-founder of the firm Hollwich Kushner (HWKN) and co-founder of Architizer.com, to discuss his prominent research on aging and its relationship to architecture, which has been the topic of lectures, conferences, and a recently published book titled New Aging: Live Smarter Now to Live Better Forever. Previous speakers include: Joel Sanders, Principal at JSA and Professor of Architecture at Yale University; Aurelia Fleury, Director of Tactile Studio in Montreal; and Rubén Gutiérrez, Co-Chair of Queer Students of Architecture, Planning, and Preservation.
The 2020 Collective Impact series features 14 professionals, including a UCLA professor, multiple architects from different firms, and a Board Member from the LA Building and Safety Commission, to name a few.
Buro Happold is an international, integrated engineering consultancy. The webinar took place on October 21 at 5 PM PDT. Register here.