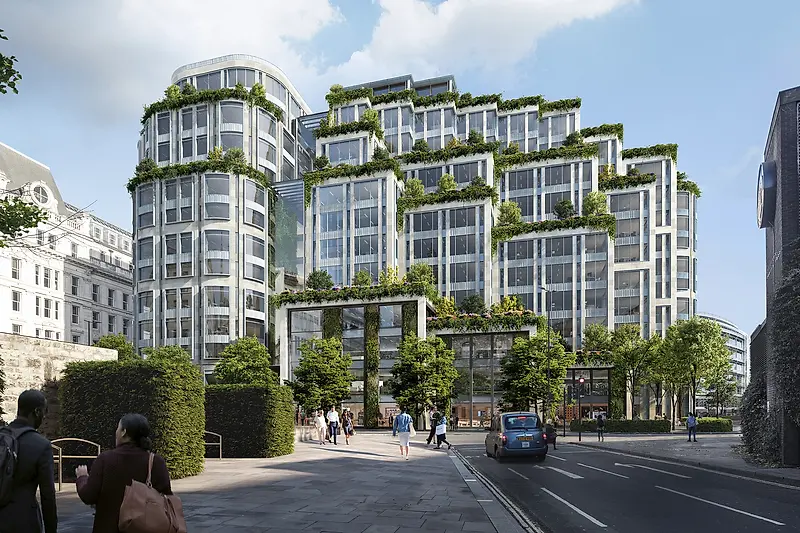 Panorama St Paul's Shortlisted in the New London Awards
The mixed-use development, designed by KPF, will transform the former BT Headquarters at 81 Newgate Street  into a contemporary mixed-use development in the heart of the City of London.
Panorama St Paul's moves away from the outdated, monolithic, closed office space of the original 1980's design, to embrace the City's goal of creating a 24/7 community. On the roof, a large publicly accessible terrace will feature a restaurant, wildflower meadow and a unique view of St. Paul's Cathedral. At street level, an arcade has been introduced, activating the public realm and featuring an expansive digital display wall for curated arts and media that will link into the City's Culture Mile.
Through extensive retention of the existing structure and reuse of Portland stone and granite from the existing façade, the project offers the lowest impact development for the site, saving up to three years of demolition/new construction and reducing whole life carbon.
The annual awards, presented in association with the Mayor of London, celebrate all scales of projects, from community-led to large-scale mixed-use developments, both built and unbuilt, that contribute to and enhance London, for a city that is sustainable, civilised and egalitarian, to improve the quality and standards of new design. Panorama St Paul's was shortlisted in the 'Retrofit' category. See the full shortlist here.