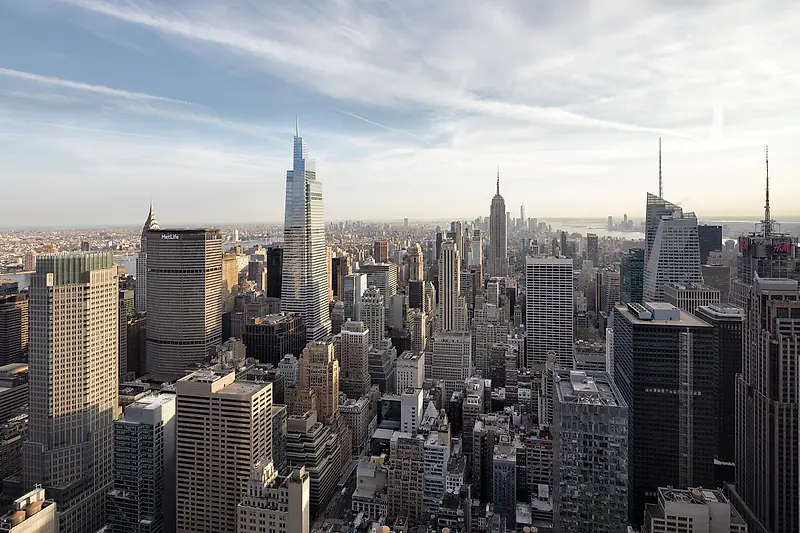 One Vanderbilt Wins ULI NY Excellence in Development Award
The KPF-designed tower in Midtown Manhattan was honored in the Office category in this year's Urban Land Institute (ULI) Awards for Excellence in Development.
Midtown's tallest office building, One Vanderbilt is the first project completed as part of the district's rezoning and represents a revitalization of the neighborhood. In addition to offering state-of-the-art workplace facilities, One Vanderbilt provides public realm benefits including a direct connection to Grand Central Terminal and New York City's subway and regional transit systems, enhancements to area infrastructure relieving stress on commuting pathways, and a 14,000-square-foot pedestrian plaza on Vanderbilt Avenue.
One Vanderbilt pays homage to the city's most iconic towers, following a modern take on a layered design. Four interlocking, tapering volumes extend into the sky, reaching over 1,400 feet. A series of angled cuts at the tower's base reveals Grand Central's Vanderbilt corner – a view that had been obstructed for nearly a century. One Vanderbilt's design prioritizes sustainability, minimizing its carbon footprint through the use of steel rebar made of 90% recycled content, earning LEED and WELL Platinum certification.
ULI was founded in 1936 as a nonprofit research and education organization, dedicated to creating better places through the open exchange of ideas, information, and experiences. The Awards for Excellence in Development recognize outstanding development efforts in the public, private, and nonprofit sectors. Winners were announced on November 3rd at a gala held at Cipriani Wall Street in New York. Learn more about ULI and the Excellence in Development Awards here.