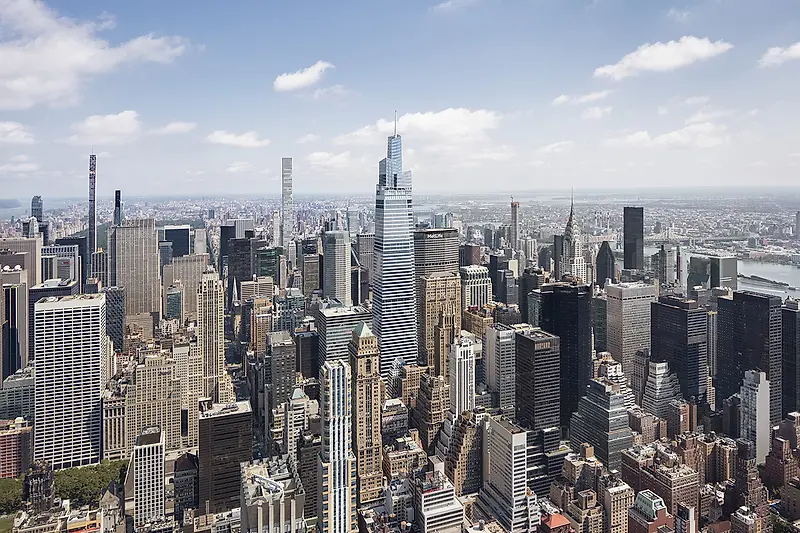 One Vanderbilt Praised as "A Model of Sustainable Transit-Oriented Development"
The supertall office tower is applauded in a Steel Institute of New York article for what it represents for an optimistic, post-COVID Manhattan.
Written by Bill Millard, the article explores One Vanderbilt's design and the construction of its steel framing, as well as notable attributes including its sustainability features and connection to public transit. Designed by KPF and opened in the Fall of 2020, One Vanderbilt is the tallest office tower in Midtown, offering prime views over the nearby Empire State and Chrysler Buildings. With the tower's completion seven months into New York's pandemic crisis, the article reminds the reader that "any supertall skyscraper is, among other things, an embodiment of optimism."
Highlighting One Vanderbilt's sustainable design features such as a cogeneration system, rainwater collection, and high-performance glazing, the article also points to its integration with New York City's transit network as some of the building's most forward-looking attributes. The tapering form complements the iconic Grand Central Terminal, while at the base of the tower a 14,000-suqare-foot car-free plaza prioritizes pedestrian traffic. "The building may be the nation's most conspicuous example of transit-oriented development," writes Millard.
The project was completed ahead of schedule and under budget; KPF Director Andrew Cleary notes that "the job wasn't fast-tracked; it was faster-tracked." Learn more about One Vanderbilt's accelerated construction process here and the history of the site here.
The Steel Institute's New York chapter is a community of builders and developers exploring sophisticated solutions for architectural challengers through the use of steel construction. Read the full article here.