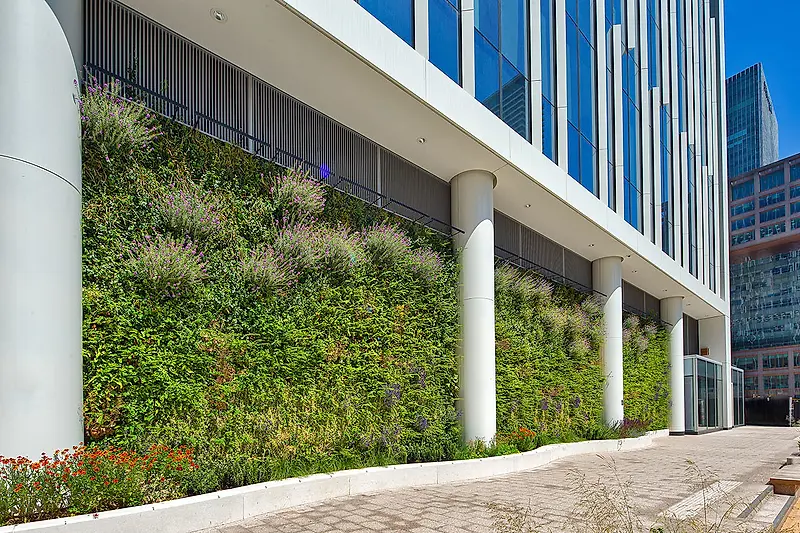 One & Five Bank Street Achieves BREEAM Outstanding
One & Five Bank Street in London's Canary Wharf has been certified BREEAM Outstanding for the shell and Core, making it the largest UK New Construction to achieve 'Outstanding' at final certification.*
With a distinctive sweeping facade, the 27-storey building is a gateway to the Canary Wharf Estate and comprises a high-quality office space with three levels of state-of-the-art trading floors, a retail unit at ground level and public access to a newly created promenade along the South Dock. Many environmental and wellbeing enhancements have been incorporated to bring office and nature closer together, to enhance productivity and provide an enjoyable, healthy environment for office workers.
"This project has been a testament to Canary Wharf Group's long-standing commitment to deliver extraordinary environments, and a firm belief that sustainability flourishes from collaboration," says Martin Gettings, Group Head of Sustainability at Canary Wharf Group. "As we start to emerge from this period of uncertainty, the success of One and Five Bank Street reinforces the belief that together we can meet challenging carbon reduction and climate change targets, transition to a circular economy, improve occupier health and support biodiversity, as well as deliver economically successful developments at scale."
'We are incredibly proud of achieving the high sustainable target set for the project," says KPF Principal Shawn Duffy. "This was made possible through collaboration with a client determined to make a real impact and an outstanding consultant team including Adamson Associates, Hilson Moran, Arup and the ecologists Greengage."
The project includes features to attract wildlife such as a green wall – the first on the Canary Wharf estate – and an innovative underwater living wall designed to attract fish and marine wildlife. Additional measures include an energy strategy focused on passive design and fabric first approach saving 600 TCO2 a year; roof-top solar panels delivering almost 20,000 kWh/year; and 857 cycle spaces with over 500 lockers and 60 showers.
BREEAM (Building Research Establishment Environmental Assessment Methodology) is the world's leading design and assessment method for sustainable buildings. One & Five Bank Street achieved an overall score of 87%, verified by independent assessors in accordance with BREEAM.
*correct at the time of publishing, August 2020