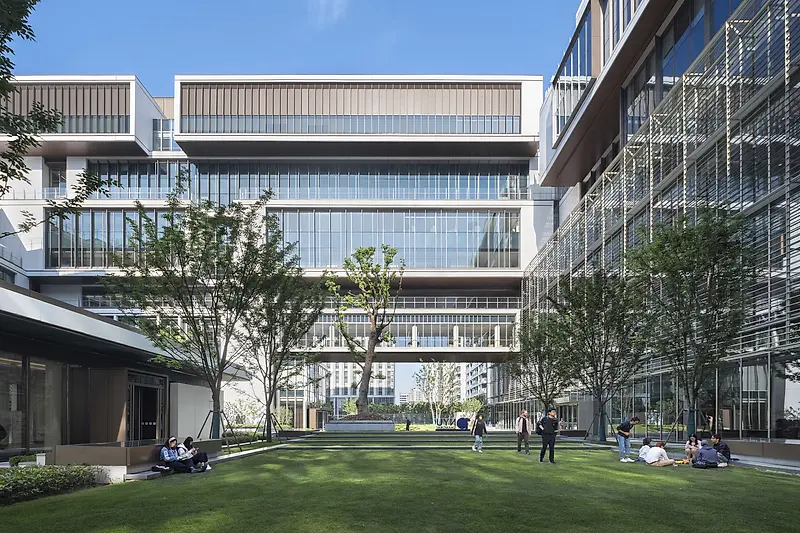 NYU Shanghai Receives LEED Gold Certification
The campus, which KPF designed to facilitate cultural and academic connections between Chinese and international scholars, highlights the firm's commitment to designing cutting-edge sustainable projects around the world.
Located in Shanghai's Quiantan district, the project was recently certified LEED Gold under the LEED v.4 rubric by the USGBC and sets the tone for green architecture in China and throughout Asia. A cutting-edge academic campus, the university comprises four buildings, which are arranged in a loop that maximizes intellectual cross-pollination. Starting with a site that is well-served by transit networks and local amenities, KPF emphasized low-carbon transportation by layering on pedestrian improvements and electric vehicle infrastructure.
The buildings' energy-efficient design further minimizes the campus's carbon footprint while keeping occupants healthy through improved indoor air quality, a high priority for projects in the Shanghai area. Inside buildings, water use is reduced by nearly 50%. Outside, the site's plentiful landscaping, which presents a fusion of the Western-style campus quad and the Chinese scholar's garden, reduces water use for irrigation, while minimizing stormwater runoff, which is held in underground cisterns.
The façade's floodlighting scheme was optimized to effectively control light pollution in the surrounding park area, while the use of mercury-free LED lighting throughout the campus reduces energy use. Green roofs on campus buildings not only absorb rain water, but  help regulate the site's microclimate and reduce urban heat island effect.
These attributes and others contributed to the project's recent LEED Gold certification. With high ambitions for cross-cultural inquiry and the sustainability credentials to match, NYU Shanghai integrates liberal arts programs and specialized research within a holistic academic community, forging international connections and translating cultural values across barriers. Learn more about KPF's design for NYU Shanghai here.