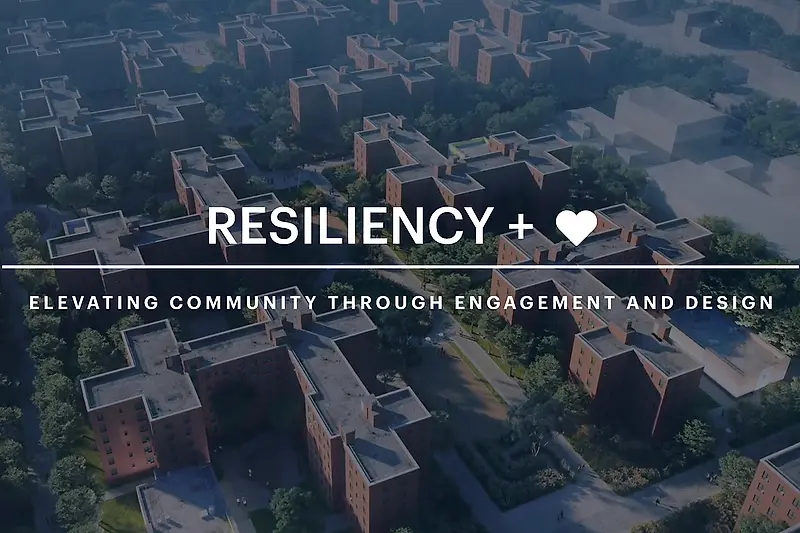 Short Film on KPF's Resiliency and Renewal Program for NYCHA Featured in Open House New York Weekend
The KPF-produced film documents the design process behind the NYCHA neighborhood revitalization alongside collaborating partners and is available on-demand as part of OHNY's Weekend design festival.
The New York City Housing Authority's (NYCHA) Red Hook Houses suffered severe flooding after Hurricane Sandy hit the city in 2012, leaving thousands of residents without power and access to food, supplies, and medical assistance for more than two weeks. With the low-lying neighborhood's proximity to the water and below-grade mechanical infrastructure, the development was at risk for future disasters. KPF and NYCHA devised a resiliency and renewal program that would lessen the community's vulnerability to extreme weather events and improve the sustainability and livability of the development's 28 buildings housing over 6,000 people.
The short film Resilience + Heart covers KPF's work with NYCHA, in collaboration with City Council Member Carlos Menchaca, Arup, and OLIN, along with direct conversation with the residents to discuss how to improve and protect the daily life of citizens. The renovation provides a safer and more sustainable neighborhood, resilient to future natural disasters.
OHNY Weekend takes place on October 16th and 17th and is one of the largest public design festivals in the nation, with events held virtually in person across the city's five boroughs. Learn more about the event here and how to view the short film here.