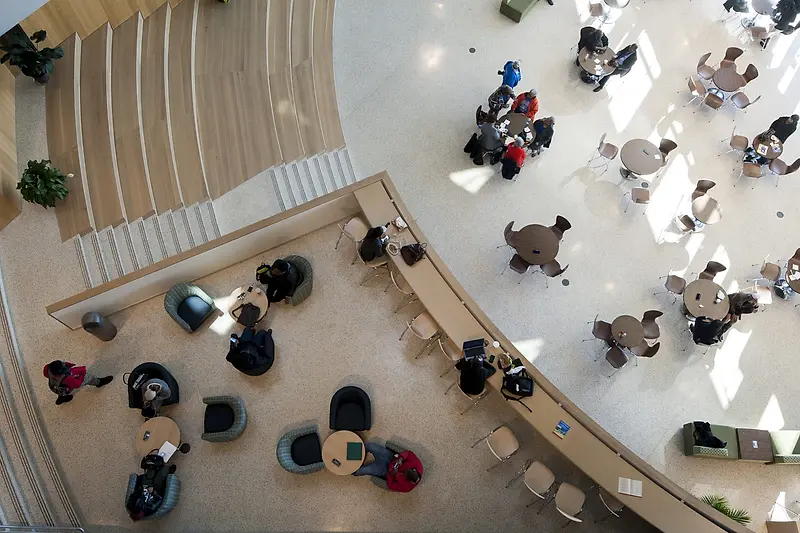 Earl G. Graves School of Business and Management Opens at Morgan State University
The KPF-designed new school of business at Morgan State University officially opened on Friday, November 13th.
Morgan State University celebrated opening of the Earl G. Graves School of Business and Management on Friday, November 13th. KPF served as Design Architect for the new building; Ayers Saint Gross served as Executive Architect.
The 138,000-square-foot building is located on an historic site where Morgan State University students participated in the civil rights movement in the 1960's. The opening of this building marks the completion of the first phase in Master Plan which creates a West Campus quadrangle to provide outdoor gathering spaces and connections to the community, while strengthening the relationship to the main campus, accentuated by the new pedestrian bridge across Hillen Road. The new facility capitalizes on views and features many outdoor plazas and amenities that are usable year-round.
Having outgrown existing facilities at McMechen Hall, the new building will provide space for the School of Business and Management's seven academic departments and outreach centers. The $72-million state-of-the-art facility features a Center for Innovation, computer labs, classrooms, a real-time Capital Markets stock trading center, seminar rooms, and a 299-person-capacity auditorium that includes a 80-person lecture hall.
Located on a sloping prominent site, the upper floors of the building offer dynamic views to downtown Baltimore. The exterior palate has a strong relationship to the campus context, reinforced by the use of materials and details such as stone edges and light-colored masonry. The new school creates a physical identity for the School of Business and Management, as well as a central hub for innovation and collaboration.