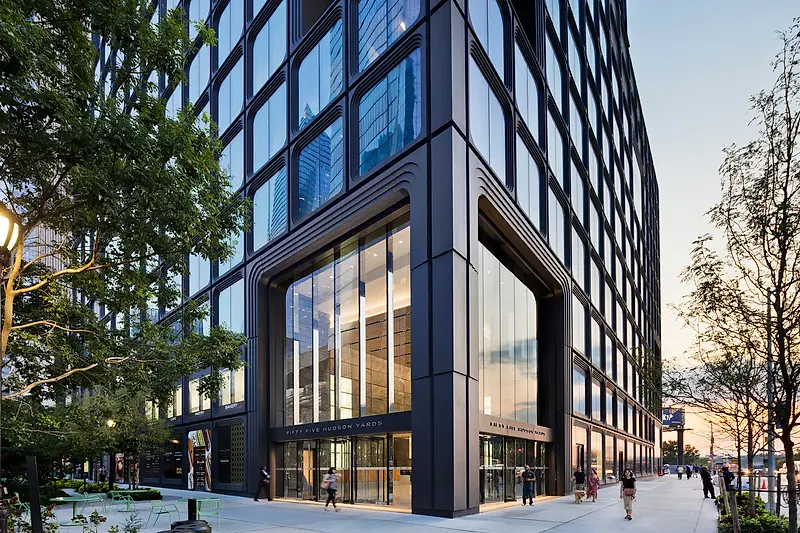 Metropolis Praises 55 Hudson Yards
Speaking with Design Principal Trent Tesch and Senor Associate Principal Lane Rapson, writer Vicky Su highlights the complexities and challenges of the site, and emphasizes the resulting key design moments in the project, including its scale, detail, and material expression.
Su presents 55 Hudson Yards' site, which is situated above the #7 Subway stop at Hudson Yards, and explains the constraints involved in building above a train station, which required incorporating a vent shaft as part of the building's podium. "The transit station also prevented an even placement of structural columns, creating a slight differences in each piece's [of the façade's] proportion," Su points out.
Su also notes the lack of a direct context from which to draw design inspiration, which prompted the design team to look to nearby SoHo and the Meatpacking District. Composed of modular gunmetal units and transparent glass, the building's façade offers a legible scale reminiscent of historic buildings in those areas. "'We wanted 55 Hudson Yards to have a lot of texture, but still defer the energy to the whole site,' remarks Tesch. 'So that's where we kept it—a very simple, straightforward building.'"
In the lobby, seam-faced jet mist stone gives a tactile quality to the space. "'We didn't want the walls to be some oddly polished material,' says Lane Rapson…'But we also wanted to have a level of refinement so they're placed in a rigorous and polished grid. It creates a juxtaposition between the raw material and this rigid structure.'"
55 Hudson Yards' "footprint and rational form complement some of the more gestural buildings…of Hudson Yards," Su notes. "The end result is a delicate dance over the structural challenges presented by the underlying station, creating a unique composition with its own quirky character."
To read the full piece, please click here.