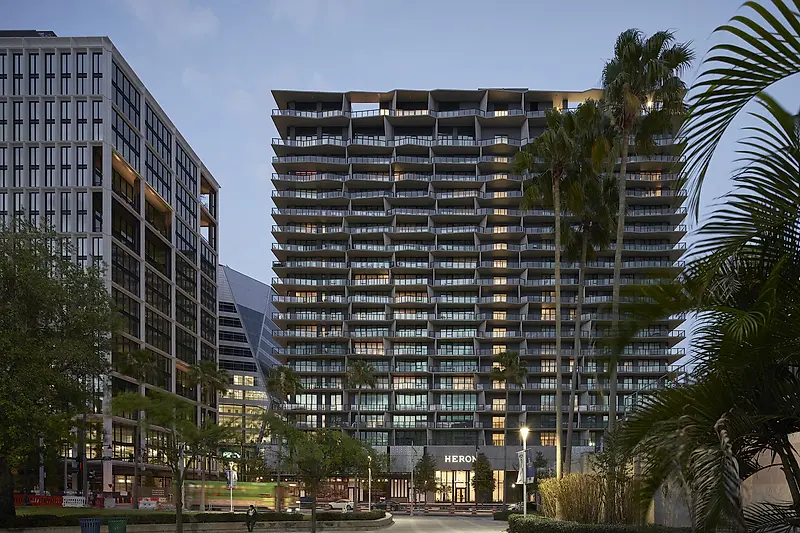 Metropolis Details the Design of Wellness-Forward Heron
The KPF-designed residential complex in Tampa was showcased in an article focused on the project's captivating design and prioritization of resident well-being.
Appearing both in print and online, "Living: The Art of Angularity," by Drew Limsky, explores the design and impact of Heron, KPF's latest residential project. Located in the world's first WELL-certified neighborhood, Water Street Tampa, Heron "was engineered to promote physical health and mental well-being for its residents," writes Limsky. KPF Principal Trent Tesch explains that the team "approached the buildings' design as part of an overall WELL-certified community that would enable a holistic, healthy lifestyle. Our design for Heron picks up on these themes through its scale, materiality, and architectural expression."
Limsky highlights the project's angular and organic form, expressed through "striking asymmetrical balconies" as part of its wellness-oriented design. When discussing how the Heron program influenced the architecture, Trent noted, "We tried to find a way to give [Heron] a gentle temperament that had a certain timelessness. The idea was to create a beautiful urban building that people could understand as residential—nothing overly jarring or detached."
Heron's material palette takes inspiration from Tampa, utilizing bronze-colored metal and gray board form concrete intermixed with lush greenery. Natural and organic forms are carried through the development into the interiors to "avoid mechanical repetition throughout the design, and on the inside, where people linger and spend time, we wanted to use only natural materials like wood and stone," Trent said. Heron is WELL and LEED Gold certified.
Read the full article from Metropolis here.