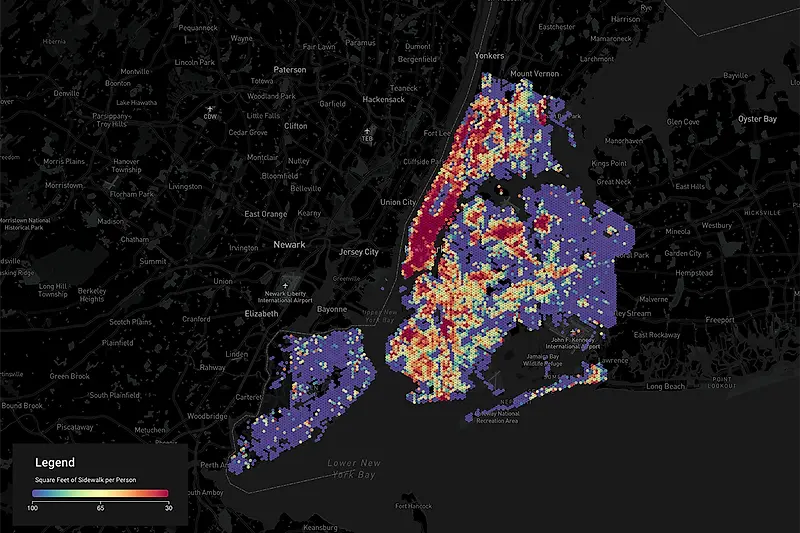 Luc Wilson Discusses KPF Urban Interface's Tools with Architectural Record
As part of the September issue's "Reimagining the City" series, the KPF Director shared how the firm is developing interactive web tools that benefit public-space design.
The article, "Data and Urban Planning" by Matthew Marani, highlights KPFui and the team's approach to creating tools that increase the public's access to data and empower non-expert stakeholders to visualize the impact of factors such as traffic and sunlight. Luc Wilson provided insight into how these tools inform the firm's work, using One Vanderbilt as an example. Through carefully articulated setbacks and tapering, the resulting design of One Vanderbilt allows more daylight to street level than the previous building, despite being significantly taller, and creates a new public plaza to accommodate pedestrian flow.
He also shed light on how a new toolkit helps visualize New York City's public-space design and time-specific use demands, "We map the flows of pedestrian volume in relationship to daylight, thermal comfort, and vehicular traffic to create a shared street schedule." Try KPFui's Sidewalk Stress tool here.
In response to the pandemic shifting the way we live and work, Architectural Record's "Reimagining the City" series taps industry experts to explore how cities are changing based on new demands and gain insight into how to revitalize the urban realm.
Read the full article from Architectural Recordhere and view the "Reimaging the City" series here.