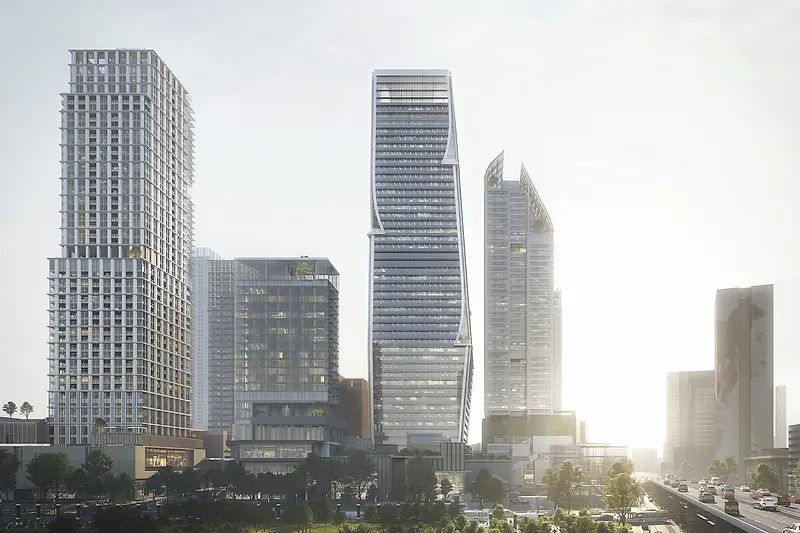 Law Firm Baker Mackenzie Signs "Green Lease" in a KPF-Designed Building at One Bangkok
The legal powerhouse will occupy 10,000 square meters of Tower 4, and will follow best practices for sustainability in fitting out its new office.
When Baker Mackenzie and Frasers Property Limited, the developer of One Bangkok, signed the lease for 10,000 square meters of premium office space in one of Thailand's highest-profile developments, they did more than hand over the keys. The two parties agreed to a shared set of sustainability goals and standards for both how the law firm will outfit and operate the space, and how Frasers will care for the building and maintain its infrastructure. The agreement is the first of its type in Thailand and will help each party meet its sustainability benchmarks.
Baker Mackenzie intends to design its office spaces for energy and water efficiency while reducing the amount of waste that gets sent to landfills as a result of the workplace's construction and operation. The firm has also agreed to select interior finishes in accordance with LEED and WELL certifications. The green lease creates cohesion between decisions that are made by the tenant and the building's overall sustainability performance. KPF designed two office towers at One Bangkok (Tower 4 and Tower 5), a mega-development that's notable for being the first real estate development in Thailand to receive the Platinum WiredScore certification for its advanced technological performance. The development also achieved LEED Platinum for Neighborhood Development and meets the WELL Building Standard, demonstrating a commitment to supporting human health and well-being. Office Tower 4 will be the complex's first building, and is launching in the first quarter of 2024.